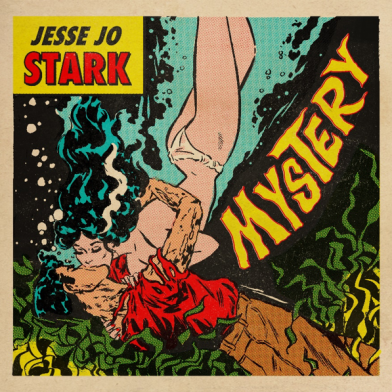 Los Angeles based rock sorceress, Jesse Jo Stark, today releases 'Mystery', her third standalone single following her debut EP 'Dandelion'. Co-produced by Dan Taylor of The Heavy and Stark's guitarist Thomas Hunter, the track is an introduction to the softer side of the songstress.
Jesse Jo describes the song as a "youthful waltz" saying, "'Mystery' feels like some sort of time warp; being stuck in a moment paralyzed in love." The track combines her signature spooky elements, with a mellow but eerie country/bluesy tone, creating a beguiling anthem to explain the power and aura that can surround someone or something.
Jesse Jo is the femme fatale alternative music has been starving for. If Nick Cave and Elvira had a one-night stand, she might be the resulting progeny. Her last six singles have generated over 1 million Spotify plays and earned praise from fans and critics alike. She's secured her place as an emerging voice in rock with her scorching live shows, opening for Guns N' Roses and Janes Addiction. She's headlined her own month-long residency at The Echo in Los Angeles and supported indie darlings Sunflower Bean on a six-date domestic tour and will reunite with them on a UK tour in November. A lifetime music obsessive schooled at the altar of David Bowie and Fleetwood Mac and a born rock star, she represents the future of rock with a wink to the past.
UK TOUR DATES:
W/ Sunflower Bean*
19/11 Cardiff, Wales* The Globe
20/11 Leeds, England* The Church
21/11 Brighton, England* The Old Market
22/11 London, England* Hackney Arts Centre
23/11 Leicester, England* Dryden Street Social
25/11 Oxford, England* The Bullingdon
26/11 Glasgow, Scotland* The Art School
27/11 Manchester, England* Academy In Manchester
28/11 Portsmouth, England* Wedgewood Rooms
29/11 Bristol, England* SWX Bristol
30/11 Cambridge, England* The Junction
01/12 Birmingham, England* Castle & Falcon
03/12 London, England Shacklewell Arms
Pop Scoop founder and editor. Ex showbiz/tech editor at the Cyprus Mail. Former sub-editor at Archant. Former art director Sky TV. Co-founder of Kool Magazine and freelanced for the BBC, Channel 4, Warner Bros and the Cyprus Broadcasting Corporation.

Posted Under