The Clean Cut Kids have recently released their brand new single 'Make Believe' which premiered as Annie Mac's 'Hottest Record In The World' earlier this month.
After previously performing in the Radio 1 Live Lounge and playing festivals up and down the country- Clean Cut Kid, fuzz-pop from Liverpool and made up of husband and wife Mike and Evelyn Halls, Saul Godman and Ross Higginson have been out on tour with Courteeners after completing their own headline tour.
We caught up with Evelyn and Saul before their show at Norwich UEA LCR last week, and with major success just around the corner it seems, they're…….definitely one to watch , warm and fuzzy…
PS: So, can you explain fuzzy pop?
Saul: No, next question ( laughs)
Evelyn: It was given to us, when we were struggling to describe ourselves, and that's the closest anyone got to describe our sound.
Saul: Mikes got about 100 fuzz pedals, every gig he gets out a different one to use! It's about pop songs really.
PS: It's about the sound then, and not the bearded aspect of the group..!? (Laughs)
Saul: Evelyn is the clean cut one!
PS: Mikes beard is phenomenal…
Evelyn: Yeah, its a beast, and got its own tour bus..! PS: How would you define your musical style?
Saul: Mike had a good one.
Evelyn: He used to say, 'soulful pop ballads, washed in Mersey waters'. It's a guitar band at the end of the day, it's very original and experimental, but not too far away from the realms of pop.
PS: Listening to your songs there's a lot of sentiment in them,Do you think this is how people connect to you and the music?
Evelyn: That's so true, at every gig people always say we look happy on stage, and would always chat to them and enjoy ourselves. We are not afraid to show how we feel.
PS: And that's why it works?
Evelyn: Yeah, absolutely, great, I'm glad you get that.
PS: It's got a real "West Coast" touch to it, more in the production than anything?
Evelyn: Mike will be really happy with that, because he does all the production and he's into that West Coast feel,definitely, that's great.
PS: OK, a crazy but successful year, was it 29 festivals you played?
Saul: I think it was more.
Evelyn: 32 I think it was, one got rained off in Spain, and we travelled there and we'd set up the gear too…!
PS: A Headline tour, now with the Courteeners, Live Lounge! which is huge on its own….
Saul: If we just done that, I'd be happy !
PS: …and Annie Mac bigging up 'Make Believe' too…! How has it been from the inside, and what were the highlights?
Saul: Just like getting a great bit of news every day really, and you're happy just to be playing.
PS: Highlights then..? Texas as well..?
Saul: You're telling us and it's like, yeah we did that …wow! Texas, Glastonbury, live Lounge definitely!
Evelyn: From the inside, you almost just move on to each new thing each week as you go, you forget, and get reminded and you say did we do that in a year? It's felt like we've not been able to rest and collect our thoughts the whole year. That's the only thing. But it's fine when you're on tour with your best mates and your husband! It's like you don't often feel the need for us to take a step back, because you're always enjoying yourselves. PS: How long have you been together?
Evelyn: It's been two years now.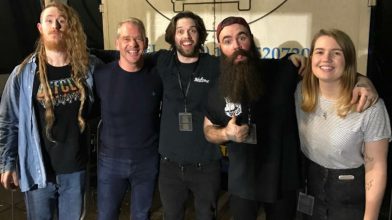 PS: With four in the band, you pick each other up then?
Evelyn: Yeah, a lot of counselling goes on! (Laughs) No one gets away with a moody day!
PS: So what would your highlights be?
Evelyn: Glastonbury was a huge highlight for me and when my head switched around to the fact that people actually might be into our music. We spent the whole year feeling doubtful and thinking, is it just a bubble of hype that surrounds us, or is it actually spreading beyond Liverpool and our circle. Then I walked on stage and the whole Glastonbury tent was full and 2000 people outside..! And still I was unsure, but when we started playing and the place took off ! That was really huge, a great feeling and a huge moment.
PS: So Glastonbury for both of you really then?
Saul: There was so many real high points, Texas for me was definitely one.
Evelyn: Even just getting recognised in the shop is a highlight, it happened to Saul, and I was watching when somebody asked if he was in the band, to think that people care about our music is great.
PS: And what about the first time you heard your song played somewhere? Say 'Vitamin C' out of a radio?
Saul: Although we've been together two years, we've all been working on it for over 10 years, so our mums and dads are now realising and believing there is something in it now..!!
PS: Thinking about live Lounge, whose idea was it to mix Stitches/Ashes to Ashes together? I thought that was genius, loved it!
Saul: Mikes.
Evelyn: We literally had to put that song together in a day.
PS: It just worked, great choice.
Saul: We had basically been doing a Beyoncé cover for a week before,and it sounded amazing. Then the day before,we were told that 'just a heads up, but we know what's number one tomorrow, and if you can get that together it would be great'. We didn't love or hate the song,and I'd only heard it once…! Mike listened to it and said let's do it like this… The structure was quite easy to get on to, Beyoncé was hard, but we were all happy then because it was new and we'd only just really heard it.
Evelyn: And also to be able to get Bowie in there was, like, one of the biggest influences and inspirations to our music..so that was great too.
PS: It worked on two or three levels, and showed a bit of depth to what you're doing, and brings people back to your music, do you think?
Saul: Most people, probably who listen through Shawn Mendes might not get it, so it's good to know you did and others will too.
PS: Well, I think you catered for everyone. Which artist do you feel had the biggest influence on your music?
Evelyn: Bowie I guess, Paul Simon, Peter Gabriel. PS: What aspects of Paul Simon and Peter Gabriel ? Evelyn: The songwriting, production and arrangements I think, pushing the arrangement boundaries in a commercial way, answering on Mikes behalf, that's the areas that seem to come up quite a lot.
PS: Favourite song at the moment?
Evelyn: I've been listening to a girl called Ji Nillson, a song called 'Nothing', it's a remixed version. I've been playing it all the time…!
PS: And how do you listen or get to hear new stuff?
Saul: Mainly Spotify or YouTube, there is a sound difference you know…! Mainly Spotify.
PS: Any routines or rituals before you go on stage? Saul: We all just start going a bit mad and running around the room..!
Evelyn: Yeah, we all get really excited with the adrenaline…!
PS: So the next six months, what does it look like , any exciting news or plans coming up?
Saul: We just had some great news yesterday, actually…
PS: Scoop?
Saul: All about America, that's pretty much all I can say, well, some great news.
PS: Give us another clue?
Saul: Ok, Grapes, Rabbits and America (laughs) Evelyn: We're also going to release our first album, hopefully about May time if it's ready.
Saul: Then there will be all the festivals again, and our own tour.
Evelyn: And we'll definitely be back here again..