It's the time of year that everyone has been waiting for – forget Halloween, put your excitement about the release of Girl on the Train to one side, even forget National Chocolate Cupcake Day (yes really, it was the 18th October) because Just Dance 2017 is out today.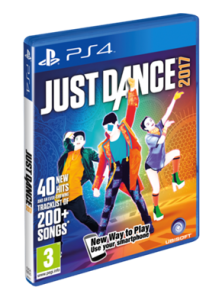 More accessible than ever, players can use their iOS and Android smartphones as controllers with the Just Dance Controller App. The Just Dance Controller App works with current-gen platforms and allows players to dance without additional accessories like cameras.
Just Dance Unlimited, the dance-on demand subscription streaming service, is also available for current-gen console owners and PC players. It offers more than 200 songs and access to exclusive tracks, while new hit songs are added all the time. The Standard version of Just Dance 2017 includes three months access to Just Dance Unlimited, so dancers can keep on moving.
Just Dance 2017 delivers fun, hip-moving tracks from chart-toppers to throwback favourites. With this year's tracklist, everyone will find something to groove to, with jams like "Sorry" by Justin Bieber and "Lean On" by Major Lazer Ft. MØ & DJ Snake, brand-new hits like "Don't Wanna Know" by Maroon 5, party favorites like "Single Ladies (Put a Ring on It) by Beyoncé and classics like "Don't Stop Me Now" by Queen.
Just Dance 2017 Soundtrack:
"All About Us" – Jordan Fisher
"Bailar" – Deorro Ft. Elvis Crespo
"Bang" – Anitta
"Bonbon" – Era Istrefi
"Cake By The Ocean" – DNCE
"Can't Feel My Face"- The Weeknd
"Carnaval Boom"- Latino Sunset
"Cheap Thrills"- Sia Ft. Sean Paul
"Cola Song"- INNA Ft. J Balvin
"DADDY" – PSY Ft. CL of 2NE1
"Don't Stop Me Now" – Queen
"Don't Wanna Know" – Maroon 5
"Dragostea Din Tei" – O-Zone
"El Tiki"- Maluma
"Ghost In The Keys" – Halloween Thrills
"Groove" – Jack & Jack
"Hips Don't Lie' – Shakira Ft. Wyclef Jean
"I Love Rock 'N' Roll"- Fast Forward Highway
"Into You" – Ariana Grande
"La Bicicleta" – Carlos Vives & Shakira
"Last Christmas" – Santa Clones
"Lean On" – Major Lazer Ft. MØ & DJ Snake
"Leila" – Cheb Salama
"Let Me Love You" – DJ Snake Ft. Justin Bieber (Ubi Club Reward)
"Like I Would" – Zayn
"Little Swing" – AronChupa Ft. Little Sis Nora
"Oishii Oishii" – Wanko Ni Mero Mero
"PoPiPo" – Hatsune Miku
"RADICAL" – Dyro & Dannic
"Run The Night" – Gigi Rowe
"Scream & Shout" – Will.i.am Ft. Britney Spears
"September" – Equinox Stars
"Single Ladies (Put a Ring on It)" – Beyonce
"Sorry" – Justin Bieber
"Te Dominar" – Daya Luz
"Tico-Tico no Fubá" – The Frankie Bostello Orchestra
"Watch Me (Whip/ Nae Nae)" – Silentó
"What Is Love" – Ultraclub 90
"Wherever I Go" – OneRepublic
"Worth It" – Fifth Harmoney Ft. Kid Ink