Hot-on-the-heels of announcing his second single 'Over And Over Again' – out November 20th – Nathan Sykes, previously a member of chart topping band The Wanted, has unveiled his brand new shoot with Fiasco magazine. Currently taking over the airwaves, Over And Over Again' is already #17 on the Shazam Top 100 and #7 on its 'Future Hits' chart. 
Shot by Eva Salvi, the vibrant shoot sees Nathan in a selection of looks as he speaks on the creation of his new music, his dream collaborations and working with music legends including Diane Warren and Babyface on his much-anticipated debut solo album which will be released next year.
Rolling Stone Magazine's response to Nathan's new music was "the young singer's new voice: a more soulful, lounge-y, big band–tinged pop croon that shines." with The Mirror adding "With booming brass, a modern set and a huge voice, we're pleasantly surprised by the slick, R&B infused direction Nathan Sykes' highly awaited debut album is taking."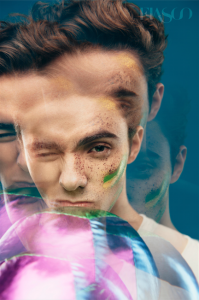 On his new single 'Over And Over Again', Nathan says: "I wrote 'Over and Over Again' to tell someone how I really feel about them, because I'm really bad at doing it in person" he laughs. "I'm really quite shy most of the time, maybe 80% of the time I lack confidence talking to 'some' people."
Nathan gained a lot from creating his debut album, and working with Babyface and Diane Warren: "Not only did I have an amazing time collaborating with these artists, I learnt so much from them…for a songwriter, it was the most amazing lesson because it really makes you go deeper into the lyrics of an already deep song…It was a very emotional session".
On future collaborations Nathan added: "I like to surprise people, I think I'd really like to do a collab with a dance producer like a Disclosure…I think it would be a really cool departure".