oe Sugg & Caspar Lee visit hmv stores across the UK for one of the most extensive hmv store tours ever undertaken for a DVD release. They will take selfies with fans as they receive signed copies of their new DVD 'Joe & Caspar Hit The Road'. Reading, Birmingham, Manchester and Glasgow events are now fully subscribed, but fans who would like to attend the Oxford Street event still have a chance to grab the last remaining spaces by pre-ordering the DVD in store.
World famous online talent Joe Sugg and Caspar Lee have produced and are starring in their first-ever exclusive feature length film, Joe & Caspar Hit The Road for BBC Worldwide. The extremely popular internet sensations (who have over 10 million YouTube subscribers and over a billion total video views between them) come together for a one-off special commission.
Joe & Caspar Hit The Road, will see Joe Sugg and Caspar Lee go on an epic European adventure. Unlike Joe, who used to be a roof thatcher, Caspar has never had a proper job or a gap year and he wants to make up for it. Joe challenges Caspar to survive a road trip around Europe using only the money they can earn each day. While they are on the road, the pair will be offering themselves up for employment in a series of unusual tasks they have absolutely no experience in, such as learning to be gondoliers in Venice, working as deckhands on a super yacht, and performing on Barcelona's famous Las Ramblas. Viewers can expect plenty of laughs, pranks and unexpected visitors along the way, as well as exclusive extra content.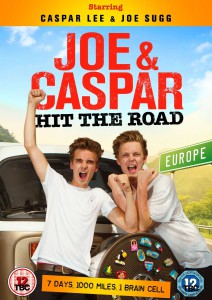 WHEN & WHERE?
Sun 29 November – 11:00am – hmv 363 Oxford Street, London
Sun 29 November – 4:00pm – hmv Reading – SOLD OUT
Mon 30 November – 5:00pm – hmv Birmingham Bullring – SOLD OUT
Tue 1 December – 5:00pm – hmv Manchester – SOLD OUT
Wed 2 December – 4:30pm – hmv Glasgow Argyle Street – SOLD OUT