Justin Bieber dropped into Radio 1 for an interview with Nick Grimshaw, to be broadcast today (Tuesday 27th October) during his Radio 1 Breakfast Show (6.30am-10am).
Bieber talks about his love for British pint and immediately puts a 10,000 dollar offer for a anyone who brings him a couple of pints for himself and Grimmy.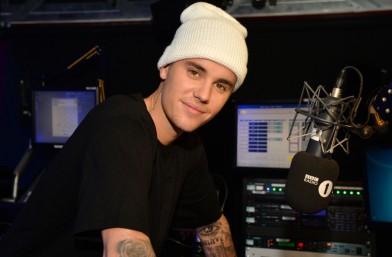 Speaking about his new album he said: "I named the album Purpose because for a while there I feel like I lost my purpose, and I feel like I found my purpose again."
"Maybe that message is to say that, no matter how far you feel like you are away from yourself or you feel like you don't have your purpose, or you don't know what your purpose is, or you feel like you lost your purpose – there's always room to find that purpose again."
Bieber has always been under scrutiny but he doesn't let fame get to him now: "The fact that people weren't open to me making mistakes was almost really hypocritical, because we all know, if you're 19 and 20 and making mistakes. Of course I have access to a lot more stuff and I'm under a microscope, I got cameras on me all the time."
"So I understand, but I'm done really apologising."
Talking about the music he made as a teenager, he said: "I never was really able to make the music that I wanted to make, and I was really young, and I had people telling me what to record and giving me songs and stuff, so it really wasn't my music. It was, but it wasn't.
"So I'm glad now that I really have a say in what I do, and feel like this is my project."
Bieber proved he's still top of his game by picking up 5 trophies at The MTV European Music Awards On Sunday. He picking up the Best Male trophy for the sixth consecutive time and also got the gongs for Biggest Fans, Best Worldwide Act: North America, Best Look and Best Collaboration for his track Where Are U Now with Skrillex and Diplo.
Listen to Justin Bieber on The Radio 1 Breakfast Show with Nick Grimshaw today.