The biggest breakthrough band of 2014, 5 Seconds of Summer, have today announced the release of their latest single 'Hey Everybody!' out October 9th through Capitol Records. The band made the announcement this morning live on the Radio 1 Breakfast show along with the news that they will be setting off on another UK and Ireland Tour. The 'Sounds Live Feels Live' arena tour follows the overwhelming demand for the 2015 Rock Out With Your Socks Out tour which took the band all over the world performing for over a million fans across three continents.
Tickets for 'Sounds Live Feels Live' are available to pre-order from 9am on Wednesday 14th October and go on general sale at 9am on the 16th October.
Live favourite and one of many standout tracks from the new album, the guitar-led new single 'Hey Everybody!' is a more mature, more confident all-out rock assault to the senses – crunching guitars, high octane drumming and a belting chorus.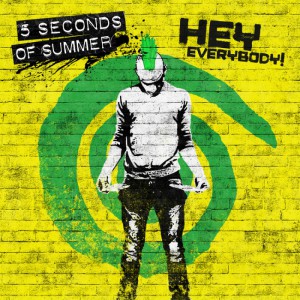 The band say, "We had such a blast on the Rock Out With Your Socks Out Tour. It was a big moment for us – our first ever headline arena tour, it is what you dream of. We are going to try and make this tour even better than the last and the best live show possible for you guys. This is such a huge thing for us to be able to come and see you all. We can't wait to play you the new album and loads more, we love you guys and hope you are as excited as we are."
From the start, 5SOS were united by a love of punk-rock music and a vision of bringing it into the pop stratosphere. They played their first gig together in late 2011, performing for about a dozen people at a hotel in their hometown of Sydney, Australia. Three years later, they were headlining the Forum in Los Angeles, where they played for 25,000 fans during a sold-out, two-night stand.
'Sounds Good Feels Good', due to be released on October 23rd sees the band collaborate again with rock veteran John Feldmann (producer, All Time Low, Good Charlotte, Boys Like Girls) who has executively produced the album. The result is an album packed with adrenaline-fuelled pop-rock hits that give a nod to their super-rock turn-of-the-millennium US Alt-Rock influences. The band spent three months living together in a studio in LA writing and recording an album that they have poured their hearts and souls in to and are very proud of. The new album is the follow-up to their self-titled debut album, which sold in excess of three million copies worldwide making it the biggest US debut album of the year.
The new album hit the #1 spot on iTunes in 50 different countries within hours of the pre-order going live and 5SOS were the #1 act on iTunes worldwide. Lead single 'She's Kinda Hot', a lyrically mischievous riot of an anthem, also topped the iTunes charts in 41 countries.
The band spent the summer performing SOLD OUT headline shows across the UK, Europe, the US and Australia including three massive SOLD OUT nights at the SSE Wembley during their 'Rock Out With Your Socks Out' 2015 worldwide tour, playing to a legion of loyal fans and proving that 5SOS's electric live performances continue to be the cornerstone of their remarkable success.
5SOS were one of the biggest breakthrough stories of the last two years; five multi-million selling singles, a self-titled debut album that not only topped the US Album Chart (going to #1 globally on iTunes in 76 countries) but also became the third biggest pre-order in iTunes history and the biggest US debut by an Australian artist ever.
April 2016 UK / IE Tour
05 – Sheffield – Arena
07 – London – The O2 Arena
08 – London – The O2 Arena
11 – Leeds – First Direct Arena
12 – Nottingham – Capital FM Arena
14 – Birmingham – Genting Arena
18 – Newcastle – Metro Radio Arena
19 – Glasgow – The SSE Hydro
22 – Manchester – Arena
25 – Belfast – The SSE Arena
26 – Dublin – 3Arena
'Sounds Good Feels Good' standard CD track-listing
01. Money
02. She's Kinda Hot
03. Hey Everybody!
04. Permanent Vacation
05. Jet Black Heart
06. Catch Fire
07. Waste The Night
08. Vapor
09. Castaway
10. Fly Away
11. Invisible
12. Airplanes
13. San Francisco
14. Outer Space / Carry On
'Sounds Good Feels Good' deluxe CD track-listing
01. Money
02. She's Kinda Hot
03. Hey Everybody!
04. Permanent Vacation
05. Jet Black Heart
06. Catch Fire
07. Safety Pin
08. Waste The Night
09. Vapor
10. Castaway
11. Girl Who Cried Wolf
12. Broken Home
13. Fly Away
14. Invisible
15. Airplanes
16. San Francisco
17. Outer Space / Carry On