We at Pop Scoop are more than excited that Michael Sutthakorn has recently announced a four date UK tour and the release of his debut solo single 'Trouble'.
The 18-year-old was better known as one third of UK boyband (M.A.D) who achieved top 40 chart success with Fame & TV and a sold out UK tour that saw queues around many blocks, before the band decided to split.
Since then the Northern Ireland musician has been working hard gigging as a solo artist and with his cover video's going viral on Facebook attracting over 150,000 fans to his page, his infectious likeability is still self-evident!
His debut single 'Trouble', an upbeat, pop track with R&B influences will be released on 22nd January 2016 via iTunes.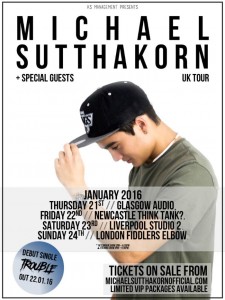 Dates are as follows:
21st January – Glasgow
22nd January – Newcastle
23rd January – Liverpool
24th January – London
Tickets are available from his officail website MichaelSutthakornOfficial.com