Last weekend's opening X Factor weekend was amazing. The bar was raised, very, very high and it is now up to the rest of the acts to jump over it.
In the opening two audition shows, Team Midas' Louisa Johnson, Josh Daniels & Tom Bleasby all smashed it and go off to bootcamp. 4th Power, were also amazing. Who will join them? Let's find out…
Health care assistant and Olly Murs fanatic, Jamie Benkert opened the show and being honest, whenever I hear the words 'Olly Murs fanatic', my Heart Skips A Beat. Sorry, couldn't resist. Anyway, he was much better than I was anticipating and he sneaked through to bootcamp. 4 Yeses. (Simon said no)
Looking to become the next big UK girl band, were Jordan & Steph aka Flaxen. Well, um, what can I say without sounding horrible. I think I will just leave it to the judges. No. Next. Now will someone put out those flames…
Ladies and gentlemen, please meet Madison, Temple, Shae, Natalie, Yasmin and Frank aka Alien (pictured above). The girls look out of this world and yes, welcome to the 4th Team Midas pick of 2015. They are energetic, memorable and sound amazing. Watching them had the feel of an established act performing their new single on their tour. Fantastic stuff girls. A standing ovation and 5 yeses. The 'Spice Girls From Mars' have landed.
Newcastle lad Zen Blythe, looked cool and had a lovely tone to his voice, I really liked his audition and I am looking forward to hearing more. 4 yeses. (Simon said No)
I love all things Essex, so Danny Charles was already off to a good start, even before he started singing. Another fantastic audition, I just wish we could have heard more. 4 yeses (Simon said No…AGAIN)
Please Simon Lynch, will you cheer up Mr Cowell. For the record Rita, the Isle of Man is no where near, the Isle of Wight. Now that's sorted, let's go Simon. Wow, wow, wow, what a vocal, it's like liquid Gold. Awesome stuff. Now this is how you do it. Great job Simon, you even put a smile on the Boss' face. 5 yeses.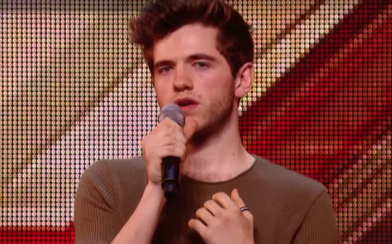 I was brace-ing myself for former Dental nurse, Shianne Phillips, who was hoping to be a contender for the X Factor 'crown' but it ended as quickly as it began. Personally, I would have given her another chance. I thought she much better than the judges gave her credit for. I would work with her, at the drop of a hat.
Waiting nervously in the wings was Stephanie McCourt. I thought Stephanie was good and at times brilliant but it didn't blow me away. Sorry Stephanie. Still, my vote doesn't count and she got 4 yeses.
The new 'Stevie Richie' aka Steven Johnson briefly 'sang' and managed to get through. It's a no from me though.
Last up tonight was full time singer Bupsi who, once she sang her second song showed the power and range of her voice. Saying that, next time please stick to the singing, otherwise the 'other antics' will take away from what a great vocal she has. 5 yeses.
Right, Im off to hang out with Alien…see you next week