The X Factor 2015 journey is well and truly up and running and just like a bus, you wait ages for one and then two come along at once. Ladies and gentlemen, it's Sunday show time.
Will anyone join Louisa Johnson & Tom Bleasby on Team Midas….time will tell.
Before tonight's auditions kick off, I just want to offer my services, to Simon and the team. If you want a proven talent spotter and a 'public' judge, someone experienced to represent the people of the UK at home. Then look no further. Well, it's worth a shot editor.
First up tonight is boy band New Wave, and their song choice 'Bye Bye Bye' was quite ironic because as quick as they arrived on stage, we literally were saying bye, bye, bye. 5 no's
Aaron, Cardan, Josh, Yohemy, and Calum, aka The First Kings, showed us all how to nail an audition. They had the build up, the back drop, amazing choreography and most importantly, they can all sing. First impressions last and we will remember these guys long after the audition dust settles. They have raised the 'boy band' bar very high. It is up to the rest to match them. 5 BIG yeses.
Market Trader Chloe Paige was hoping to 'sell' herself to the judges. Would she do it? Well, let me quickly answer that, with a massive YES. Chloe has the kind of voice, that I could listen to all day. Powerful, yet calming. 5 yeses.
Adriana Deco, Zaiga Melke & Singing duo Impulse all gave it their 'cough' best shots but with this years talent, already so high, they all went home with 5 no's. Next.
If image alone were to be judged, then Sean Miley Moore would have got 5 yeses without even singing. I know most of you expected him to be a 'novelty' act but within seconds of him singing, that thought was blown out of the water. Great range and a nice tone to his voice. I think Sean is seriously one to watch. Another fantastic first audition. 5 yeses.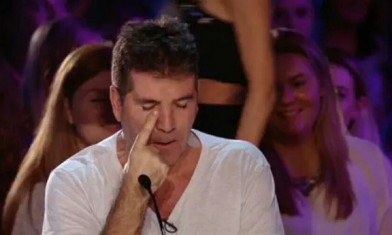 North East car mechanic Josh Daniel is Team Midas' third 2015 pick and he dedicated his audition song (Labrinth's Jealous) to his best friend, who sadly died a few years ago. Wow, this was so emotional, it hit at Simon's heartstrings, who has recently lost his mother and mine, I lost my dear father in May. Away from the tears, Josh gave us a faultless, powerful vocal performance. This lad has it all and he is a serious contender for the X Factor crown. 5 yeses.
Right, I'm off to get some fruit and veg from Chloe…see you next week.