Pop Scoop! caught up with new beacon of cool SOAK (young Irish singer/songwriter Bridie Monds-Watson) right after her goosebump-inducing set on the In New Music We Trust stage at BBC Radio 1's Big Weekend in Norwich.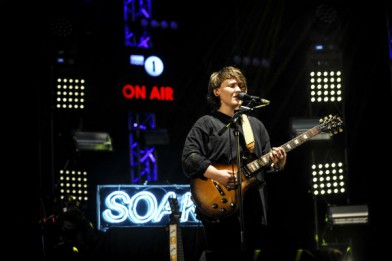 She spoke about playing on the BBC Introducing stage two short years ago when the Big Weekend hit her hometown Derry-Londonderry in 2013, her busy touring schedule, how she currently feels on top of her performance game, and details about the production of her debut album "Before We Forgot How To Dream".
SOAK also answered some of our Quick-Fire Biographical Trivia Questions. We learned about her fear of getting too drawn into movies, her love of weird & obscure musical finds, when she chooses to go vinyl and when digital, how she doesn't "get" tea, and her non-existent life motto!
Follow us on Twitter: @Pop_Scoop
Presented by Isaac Mace-Tessler – @IsaacM_T
Filmed/Edited by Jimmy Mavroudis – @jimmymav