"Once voice. One light. One sound. One LYLIT." Hailing from Vienna, Austria, singer-songwriter & multi-instrumentalist LYLIT packs a powerful musical punch. With a background in classical music and jazz, she was given a massive vote of confidence when uber-producer & Neo Soul guru Kedar Massenburg personally signed her to his label.
LYLIT's debut EP is a testament to that well-placed confidence. First single "Unknown", a rousing pop/soul anthem with a turbo-charged hook, bursts with hopeful, uplifting lyrics and gospel-influenced gorgeously layered powerhouse vocals. The song is accompanied by a slickly retro-stylish music video, wherein colourful pastels overtake a world of white and grey.
With multiple headline shows and a European tour ahead, alongside further video shoots and extensive song-writing for her upcoming album, LYLIT is sure to never be "unknown" ever again!
***
Tell us in 5 words or less, who is LYLIT?
Singer, pianist, songwriter, foodie, yoga-lover.
Can you define your musical style?
As an artist, it's always difficult to describe your own style. But I'd say pop music with an edge. Intimate, but with heavy beats.
What can people expect from your debut EP "Unknown"?
My EP is a collection of uplifting, powerful pop songs and stripped down ballads on one record. I love to touch hearts with my music. For that to happen, the music that I create needs to touch mine first. This is the case for all of the five songs on the EP. So I'm very happy with it.
What was the first spark that got you going musically as a child or teen?
When I was four I played on our neighbour's piano for the first time. I immediately fell in love with it.
What led you to move from a classical/jazz background to a more pop/neo soul sound?
I've always had these two musical hearts in my body. On the one hand I loved soul/hip-hop/jazz, but I also couldn't stop listening to singer-songwriters like Bon Iver, Joni Mitchell, and classical music. When I included the piano in my writing process, I finally felt a strong direction. I improvise a lot and all of my songs emerge from jamming on the piano. It's very important to me that I stay true to who I am. And the music that comes out of you when you're improvising, is sort of who you are. So I ran with it, didn't fight it and this is what I do now.
You were discovered and signed by legendary former Motown Records president Kedar Massenburg (responsible for the careers of artists such as Erykah Badu, D'Angelo and India Arie). How did this come about?
I wrote about 10 songs and recorded them in Austria together with a couple of musicians that are also my friends. After that I had no idea what to do with this album, so I looked through my music library and tried to find artists that have a similar sound like me. I looked their labels up on the internet and this is how I found Kedar. I sent him a CD, a handwritten letter and a picture of me. He was intrigued by this kind of naïve way of approaching a record label and listened to the music I sent him. He liked it, called me, we met in NYC and after some time we both signed the record deal for LYLIT.
How do you start writing a song? Does a tune, a harmony, a mood or lyrics come first?
First comes the mood, then the improvisation and at the end the lyrics.
Which music artists/acts are you personally inspired by? Which music artist's/act's career path would you ideally want as a model for your own?
The depth of Billie Holiday inspires me very much. I also love Philip Glass, Bon Iver, James Blake, etc.
If you could collaborate with any contemporary music artist/act/producer, who would you pick? What kind of song would you see yourself making together?
I'd love to work with Daniel Lanois, Paul McCartney or Prince. Just working with them and getting their input on my music would be amazing.
What are your thoughts about the importance of social media for today's music biz (YouTube, SoundCloud, Facebook, Twitter, Instagram)?
What I love about social media is that you can get in touch with your fans directly. No one is standing in between me as an artist and the people that love my music. That is great! I'm still not a fan of sharing everything with everybody, but luckily no one is forcing me to do that. :)
What does performing live mean to you? Do you prefer live audiences or studio work?
I love to perform, to play live and to connect with people through my music. Though I love working in the studio as well, I must say, you can't compare it to playing in front of an audience. Being on tour and sharing your music is the greatest thing.
Do you have any rituals or routines you always do the day of or right before going onstage?
I always take a deep breath, hug all the members of my band and then I go on stage.
How do you like to connect with your fans?
Simply through my music.
After you release your debut EP, what's up next for LYLIT?
We are planning a tour to bring my music to the people and we are going to shoot a new video and a performance-video series. I'm going to do a lot of shows and I will also start writing new music for my next album.
***
And now for some quick-fire Biographical Trivia Questions!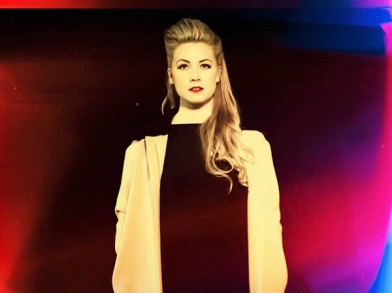 What's your favourite colour?
Grey.
Favourite animal? Do you have a pet?
Cats. Unfortunately I don't spend enough time at home to be able to get a cat, but I would love to have one. I grew up with a lot of cats – once we had more than 10. :)
What's your favourite food or meal? Do you usually eat-out, take-out, or cook yourself?
I'm a major foodie and I spend all my free time in the kitchen cooking and baking. But I also spend way too much money on great dinners at amazing restaurants.
I could never decide what my favourite food is – there are just too many ridiculously good dishes. But at the moment I love everything with cilantro [coriander]. :)
First album you ever bought? (Was it a record/cassette tape/CD/digital download?) How old were you? Do you still listen to it?
The first music I bought was a Maxi Single – 'The Boy Is Mine' by Brandy & Monica. I don't listen to it anymore, but if I hear it somewhere, it still gets me!
What song do you have on constant repeat at the moment?
'Georgia' by Emily King.
Favourite film or TV series of all time?
Ah, that's hard. I'd say 'A Single Man' directed by Tom Ford starring Colin Firth and Julianne Moore.
What's the last book you finished? What are you reading at the moment?
The last book I finished is 'A Perfect Friend' by Martin Suter, and I'm reading 'Allmen and the Dragonflies' (also by Suter) at the moment.
What's the last gig/concert/or festival you went to, which you didn't perform at?
A concert by my talented friend and singer Clara Blume.
Coffee or tea?
Actually coffee, but my heart can't take it, so I must say herbal tea.
Which celebrity, if you met them in person, would you turn into a total, embarrassing fangirl about?
Prince.
What was the first poster you put on your wall as a young teen?
Lauryn Hill & The Fugees.
Your favourite item of fashion/clothing right now?
A black and white coat with an asymmetric cut.
What's your essential, can't-live-without gadget?
My Harman Kardon headphones.
What qualities do you value most in a man or a woman? Are they different?
Honesty and empathy.
What's your favourite journey?
My journey to Uganda, Africa. I played there at a festival with my band and rehearsed with local musicians. The whole experience, seeing the country, getting to know so many lovely people and hearing the local music was simply amazing. I hope I can go back soon!
Who is your ultimate hero?
My mum.
And finally. . . What is your life motto or favourite saying?
"Totgfiacht is a gstorbn". That is Austrian for "Don't let your fears stop you".