International, award-winning musician and philanthropist Avril Lavigne has debuted her song "Fly" to benefit Special Olympics. The song was made available on iTunes 100 days before the start of the 2015 Special Olympics World Games and will feature Avril Lavigne and Special Olympics athletes from around the world.
"This song means a lot to me personally," says Lavigne. "It is inspired by the many young people I've met throughout my work with my Foundation. They pursue their dreams no matter what obstacles they face." The Avril Lavigne Foundation provides support to children and youth living with serious illnesses or disabilities. "Special Olympics' mission is to unleash the human spirit through the transformative power and joy of sports, so they're a natural fit for this song."
In September 2014, as part of the Avril Lavigne Foundation's support for Special Olympics, Avril launched a campaign for her 30th birthday, which raised funds to support 30 Special Olympics athletes competing in the 2015 Special Olympics World Games. During her 2014 World Tour, Avril visited a local Special Olympics Program in Shanghai to learn more about their work, and met with and invited more than 200 Special Olympics athletes to her shows in 14 countries.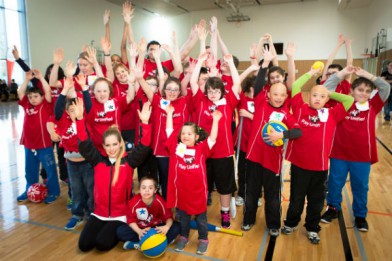 Lavigne co-wrote "Fly" with her husband Chad Kroeger and David Hodges. The track was produced by Avril Lavigne and Chris Baseford, mixed by Chris Lord-Alge at Mix LA with assistance from Keith Armstrong and Nik Karpen, with additional engineering from Andrew Schubert and Adam Chagnon, engineered by Chris Baseford, and mastered by Ted Jensen. Special thanks to Epic Records, a division of Sony Music Entertainment. The track also features violin by Slovakian sensation Filip Jančík, who is known for melding rock and pop with classical violin.
The music video for "Fly" was directed by Avril Lavigne and Robb Dipple (who also provided photography direction), produced by Lisa Lax & Nancy Stern, edited by Ray Conley and associate produced by Brittany Futterknecht.
"Fly" will also be featured during Special Olympics' first-ever Unified Relay Across America presented by Bank of America event, where over the course of 46 days, over 20,000 participants nationwide will carry the Flame of Hope to Los Angeles for the Special Olympics World Games. The relay will kick off May 26th in Augusta, Maine; Miami, Florida; and Washington, D.C. and end on July 10th. Along each route, nightly celebrations will take place with musical performances, celebrity guests and Unified Sports Experiences (where people with and without intellectual disabilities play on the same team together). Every night, during each community celebration, Avril's song will be played when the torch arrives into the city. For more information on the relay, visit www.unifiedrelay.org. And for more information about the 2015 Special Olympics World Games, visit www.LA2015.org.