Diversity have received the ultimate Nickelodeon honour by being slimed for next week's Nickelodeon's Kids' Choice Awards.
Diversity join a star-studded list of the previously slimed including Justin Bieber, Taylor Lautner, Katy Perry, Halle Berry, Nick Jonas, Harrison Ford, Orlando Bloom and Andy Murray. The renowned dance troupe were surprised with a sliming at The Historic Dockyard Chatham in Kent where they were filming a special routine for the KCA pre-show.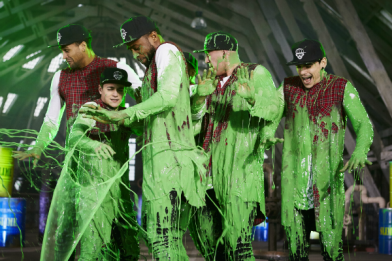 Viewers will be able to watch the impressive routine and sliming on Nickelodeon on Sunday 29th March at 5:00pm.
Ashley Banjo says, "I had an incredible time at last year's Kids' Choice Awards, so I'm beyond excited for Diversity to be a part of the show and perform for UK fans this year. Getting slimed was hilarious! We want to give a huge thanks to Nickelodeon for surprising us with one of its highest honours, although we think it's time my brother Jordan gets slimed, it's only fair."
Diversity members Jordan Banjo and Perri Kiely reprise their roles as UK hosts for the Awards and will be bringing viewers the best of the behind the scenes gossip from the orange carpet.
Check out our interview with Jordan and Perri below:
This year, for the first time, Nickelodeon's Kids' Choice Awards will take place at L.A.'s 'Fabulous' Forum. Fans can still vote for their favourites online at kca.nick.co.uk, on Twitter using the hashtag #KCA and through the Nick App.