Ed Sheeran and Taylor Swift talk about running away from the police at a post-Grammy party with Mark Ronson on the BBC Radio 1 Breakfast Show with Nick Grimshaw.
Ed Sheeran co-hosted this morning's BBC Radio 1 Breakfast Show with Nick Grimshaw (6.30am-10am), and they were joined by special guest Taylor Swift.
Other moments of the interview include Taylor and Ed playing a game of 'Eds or Tayls' where they were quizzed on how much they knew about the other – Ed was victorious. Ed, as the winner, being allowed to tweet anything he wanted from Taylor's account and the subsequent tweet trending number 1 worldwide.
Ed  also revealing that Benedict Cumberbatch was supposed to star alongside the puppet of him in the video of 'Sing' but it never materialised.
He even admitted he's been cutting his own hair for years but gave it up recently when a botched job saw him having to wear a beanie for several weeks because it was so bad.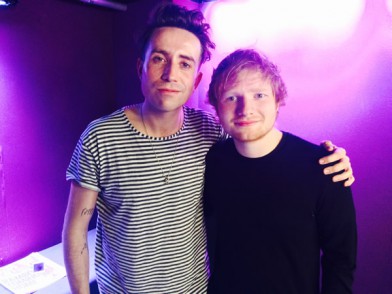 Taylor talks about her holiday with HAIM and them finding ways to avoid the paparazzi's long lenses.
She also revealed getting an email from The Weeknd saying she'd stroked his hair for an hour after the Grammys and her awkward reaction to it.
Listen to Ed and Taylor below (from 02:12):
http://www.bbc.co.uk/programmes/b0527rps#auto