2014 was a mega year for Charlie Simpson. Not only did he score his second Top Ten solo studio album with 'Long Road Home' and pack out headline dates across the UK, but the singer-songwriter was also married in a private ceremony in Suffolk, the place he grew up.
Simpson discusses his exciting year and ongoing life changes in an interview with Fault Online, which also sees him in a stylish new photo shoot (scroll down for image previews).
This New Year brings a set of more live dates for the singer, who will be embarking on tour without a live band for the very first time. And while life on the road will always call to Simpson he's aware that his marriage marks a time to be more conscious about not being away for too long.
"When I was younger I loved just getting out on the road, and I still do. I love making music, but I love getting out and playing music just as much. But that's getting harder as I get older. Family life and being a musician aren't that compatible, there has to be a balance."
"One of the themes of the record is how you can be in a dark place, and be unsure of what is going on, but the one constant is family. I'm really blessed to have a loving family, and that will never change. I'll always have my family, my wife, and (hopefully) my kids."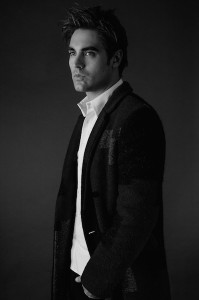 Charlie has become a bit of a music industry veteran, having written and recorded songs for half his life. He signed his first record deal at just 15 years old and of course the music business has changed significantly in that time.
"The industry is almost unrecognisable. Facebook, YouTube, Spotify – none of these things existed! The landscape of the industry has changed so much, you've just got to go with it. Whether streaming or downloading, as long as people are still consuming music (legally!) it's a good thing.
A member of three different acts, Simpson has toured the world and played everywhere from toilets to Wembley.
"As a solo artist I get complete creative freedom. In a band, it has to be majority rules; if you write something you really like and one other member doesn't like it, it really makes you question things. With this album I was able to take it in any direction, which is why I think it took me longer to write. With that creative freedom comes more responsibility because it's all resting on your shoulders."
Read the full interview on Fault Magazine
Catch Charlie live on his solo acoustic tour in January and February 2015 – http://www.charliesimpsonmusic.com/live
Tour dates:
JANUARY 2015
24 – Dublin – The Sugar Club
25 – Belfast – Belfast Limelight 2
27 – Wolverhampton – Slade Rooms
29 – Glasgow – King Tuts
30 – Manchester – Gorilla
31 – York – Fibbers
FEBRUARY 2015
01 – Nottingham – Rescue Rooms
03 – Cardiff – Globe
04 – Bristol – Thekla
06 – Oxford – O2 Academy 2
07 – Brighton – The Old Market
08 – Colchester – Arts Centre
10 – London – Islington Assembly Hall
No Description
No Description
See posts, photos and more on Facebook.