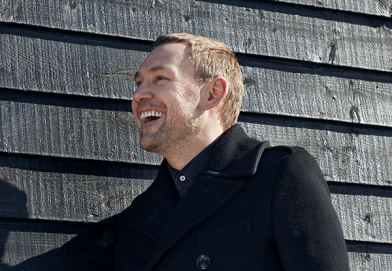 David Gray has today announced details for an iTunes Festival show at London's Roundhouse on September 14 2014.
The date follows the release of Gray's new top 10 album Mutineers, his tenth studio release and first in four years, which came out earlier this year on IHT Records via Kobalt Label Services to widespread critical acclaim. Gray's iTunes slot will see him playing alongside the likes of Beck, Pharrell Williams, Blondie and Kylie at this year's festival- to watch a video message from David about the show, head here.
Speaking about the iTunes announcement, Gray says; 'It's very exciting to be part of the line up of this year's iTunes Festival, where not only are you performing live on stage, but also live in front of a huge audience of fans across the world. It's also always a pleasure to be playing at The Roundhouse. It's my local gig, and one of those amazing historic venues where there's magic in the air.'
Twenty-one years since his first studio album, Mutineers finds David Gray steering into unfamiliar territory while cultivating a pugnacious but respectful relationship with his own history. "You have to sort of tear up the past and let it go," says David. David's past includes the phenomenal success of White Ladder (seven million copies sold), one of 3 UK number one albums, Brit and Grammy nominations, and recent albums Draw The Line (2009) andFoundling (2010) both reaching the Billboard Top 10 in the US. Despite this, the only certainty David had at the commencement of his new recording was the need to surprise himself, not just in terms of how he worked, but the ideas that drove him and the people he worked with.
It's a shift instantly audible on Mutineers- produced with Lamb's Andy Barlow- an album whose ancestry David sees as more in the neighbourhood of John Martyn's Small Hours perhaps than its predecessors in his own catalogue. As well as the change in tone there's a rising sense throughout the record, from the opening affirmation of 'Back In The World' to its conclusion, of an artist liberated from even his own expectations.
Mutineers then is a record that seems to fizz with the joy of its own assembly. The sound of a musician making a clean break and some sharp turns but also reconnecting with the freedoms of an earlier dream.
To apply for iTunes Festival tickets please visit iTunes.com/festival
We're always on the lookout for writers/presenters/videographers and photographers. If you think you have what it takes to join the writing team. Get in touch!
http://www.popscoop.org/joinus/

Posted Under
Twitter
Join us on Facebook