How things have progressed for former shop assistant Beth Sherburn who was plucked from obscurity only a few short years ago. The 23 year old singer songwriter and performer has been filling dance floors from London to Ibiza, New York to LA and back again with her irresistible brand of edgy, dance floor friendly pop.  Now Beth has teamed up with renowned rapper Lil Wayne for her first international single 'Joker'. The new princess of pop talks to Pop Scoop about her growing success.
Hi Beth, how are you?
I am great thank you! Busy promoting the single, which is very exciting!
Congratulations on your debut single, 'Joker'! You're releasing it in just a few weeks now, are you excited?
Yes very excited…I've worked really hard on the single! Joker was one of the first real songs I wrote…so it is a special song.  I would like to thank everyone for their support because it really has been amazing overwhelming actually.  I've recently performed the song at a few events now (London, Birmingham Pride, Thorpe Park) and I've definitely received amazing energy from the audience when Singing Joker! I'm really happy with everyone's response
In the video you're seen with a guy who seems to be playing you around, is this inspired on personal experience or is it something you feel is a topic that needs to be addressed? What message are you trying to send out to your fans through the song?
It is personal but i think many people can relate to 'Joker' I mean many people have problems with a guy/girl and you think you're serious in a relationship when, basically, their just acting like a player you know, a Joker they tell you everything you want to hear, and you find out what he/she is really like…that was the influence…the message is basically no one should ever put up with a cheat
I was lucky enough to shoot the video in Ibiza and it was directed by Carly Cussen, she's worked with Olly Murs, Ed Sheeran and Little Mix so it was amazing to work with a talented team! If you watch the video you will see there's a story behind it…there's a lot going on in the video, my favourite scene was driving the quad bikes!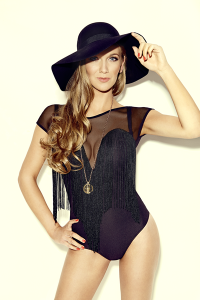 Now you've worked alongside Lil Wayne to pull this track but we've heard you also have backing from the likes of Cheryl Cole! How was it to hear that such highly sought artists were in full support of your music?
It's overwhelming, it's amazing! I met Cheryl backstage, she was really nice and gave me some great advice on the writing side of things….she also told me to stay focused and to keep working hard on my music.. It was so lovely to be performing alongside Katy B, Connor Maynard and Kimberly Wyatt… Kimberley was really nice to me saying  she couldn't wait to hear the single..and Sarah Cox heard it when I  performed at Birmingham  Pride and she loved it!
It's incredible that you've been able to grab the attention of some of the music industry's biggest names already, so early on in your career. But how was it that that you came to be noticed?
My lucky break came before Christmas 2012 when I was spotted working in Debenhams by a record producer whilst singing along to Michael Buble. I have always wanted to get in to the music business – I've always worked hard behind the scenes…I can't believed it happened at my work place, at first I thought he was just messing around, but then I started to realize he was serious.
'I couldn't believe it when he said to me he was a record producer, and told me who he had worked with…He came in the store to get his wife some perfume, so I was very lucky to be in the right place at the right time.
But music is always something I've wanted to do.. Before I got spotted I've always worked really hard on my music….I always participated in local/national competitions from a young age, I performed in musicals (Don Quixote) starring alongside George Costigan and Matthew Kelly.. Attended music/choir workshops, singing and piano lessons as well as performing at many world class venues such as The Royal Albert Hall, NIA Arena, Manchester Arena
How have your family and friends responded to your growing success?
They've been really excited for me. It's everything I've wanted to do. If it weren't for my parents I wouldn't be doing this. They took me to my piano lessons (piano really helped me write) and they took me to singing lessons. When I was younger I went everywhere. I did national competitions, workshops, musicals, the lot!
I think they're really proud of me and how it's going. They always come and support me, they love it. They're into music as well anyway – it's really cool. We're a close family unit anyway.
Are there any artists that you've thought, 'yeah I want to be like them, I want be able to get my music out there in the same way'?
I Love Beyonce, shes the ultimate diva!  The energy She creates on stage is incredible! I was lucky enough to see her perform The Mrs Carter Show at the 02…I just think she's an amazing talented performer and her songs are so inspiring!
Social media is an ever-more crucial element used by music artists to build a fan base, do you think that it would have been much harder to build up the support you have without it? Do you feel you can easily engage with your fans?
I love SNS especially Twitter, I think it's very important because that's how I keep in contact with my fans all over the world! I get to share my musical journey with them by keeping them up to date with my tours, events, videos and just getting to know them! I love it! I've made some great friends through social media!
Finally, how would you describe your sound? Can we expect the release of your debut album to follow the same genre as 'Joker'?
My sound is urban/pop with an edgy flare! I will be touring around the UK later on in the year as well as working on my album!
Get ready to hear a lot more from Beth Sherburn – finally a pop princess who sings live, writes her own music and breaks into the music industry through the traditional route of hard work.