Remember this? "Heyyy guyyys, it's Milerz and Manderz!" Gal-pal hit web series "The Miley and Mandy Show" may sadly be no more, but its stars have definitely kept that frenzied spirit alive.
Since then, Miley Cyrus has famously taken a wrecking ball to her Disney shackles with much sensational tongue and twerk action. As the (slightly) less cray-cray of the duo, Mandy Jiroux has been just as busy, but so far opted for a cooler & calmer approach to world domination. Now the time has truly come to get ready for Brand Mandy©!
Renaissance Lady Mandy is carving a super-fresh niche for herself with everything from music collaborations and featured vocals on EDM tracks, to regular DJ slots as well as YouTube dance tutorials and fitness videos. Also in the dizzying pipeline are cameo film appearances, eyewear & shapewear lines and a long-awaited solo music project.
As Mandy herself used to say: "Doo-da-doo – life's good!"
***
Tell us in 5 words or less, who is Mandy Jiroux?
Optimistic, positive, caring, passionate, compassionate.
As an incredibly diverse multi-talent (recording artist, DJ, dancer, choreographer), how do you fit it all in and keep yourself motivated?
I feel so fortunate to wake up every day and to be able to do what I love.  My motivation is constant because I live for what I do!
You first entered our pop consciousness in 2008 as Miley Cyrus' backup dancer, then BFF and co-star in the pioneering YouTube series "The Miley and Mandy Show". What's it like looking back at those clips now and what's your craziest/favourite memory from then?
Looking back on the "Miley and Mandy" videos still cracks me up! My favourite memory would have to be from when we filmed the M&M Cru videos and then went on to perform at the Teen Choice Awards with our dance crew!
Around the same time you were a founding member of girl group The Beach Girl5 (managed by Kris Jenner) and appeared on reality TV series "Keeping Up with the Kardashians", although the project didn't ultimately work out. What did you learn from that experience?
It was such a fun experience being in BG5 and working with Kris Jenner.  I learned a lot about the music business in general being in the girl group, which helps me with my solo career today.
Your YouTube dance tutorial clips of routines from hit videos such as Ariana Grande "Problem", Little Mix "Salute" and Pitbull ft. Ke$ha "Timber" are wildly popular. What is the secret to your amazing physique and how do you go about breaking down these dance routines into lessons?
I've been dancing since I was 3 years old, so dance has always been the main way I stay in shape.  I also feel that it's not always about what you eat, but how much you're eating. Portion control is key. . . Breaking down dance routines is just second nature to me.  I've been teaching dance since I was in high school.
As a recording artist, you've recently collaborated with YouTube sensation Kurt Schneider and Chester See on a stripped-back acoustic medley of EDM producer Zedd's biggest hits, as well as featured vocally on Russian DJ duo Fagault & Marina's dance track "Tonight". What were these experiences like?
What great experiences! I've been a fan of Kurt and Chester for years so to be able to collaborate with them was so much fun for me. . . Working with Fagault and Marina was very exciting. When I was sent their track, I instantly fell in love with it and was flattered that they wanted me to feature on it.
Just a few weeks ago, you dropped your new R&B-tinged pop track "Already Got a Man". Is this a hint at the style & sound of your upcoming debut solo material? What else can you tell us about it?
My sound is on the pop side. My music is definitely something you want to get up and dance to or sing along to in a car with a bunch of your friends. I've grown up a lot this past year and have been through some harder times. . . My music represents my life experiences (the good and the hard times) and I feel like people will really be able to relate to that.
Which music artists/acts are you personally inspired by? Which music artist's/act's career path would you ideally want as a model for your own?
I'm inspired by all different types of artists and acts.  If I could think of one artist's career path I would model for my own, it would be Jennifer Lopez.  She started as a dancer and then pursued acting and singing.  You usually only see an artist become successful at one thing in particular, but J.Lo is a triple threat! I hope to be as successful as her in all my passions and pursuits.
If you could collaborate with any contemporary music artist/act/producer, who would you pick? What kind of song would you see yourself making together?
I've always wanted to collaborate with Zedd! I think we would make the next big pop dance radio smash together! It'll happen.
What are your thoughts about the importance of social media for today's music biz (YouTube, SoundCloud, Facebook, Twitter, Instagram)? Is there a way around it anymore these days?
Social media is beyond important these days! It's how your fans can stay engaged in what you're up to and the best way for them to constantly keep being informed about what you're working on.
What does performing live mean to you?
Performing live is my absolute favourite! I feel like people really start connecting with me when they see me perform.
Do you have any rituals or routines you always do the day of / or right before going onstage?
I like to drink Red Bull before I go onstage. It gets me really hype! I always say a prayer too.
How do you most like to connect with your fans?
Through my Twitter page mostly. I am constantly favouriting and replying back to fans.
What's up next for Mandy Jiroux?
Performing, creating my album, releasing 2 features coming soon, working on an eyewear and shapewear line set to release soon, the movie I filmed is coming out this year. I'm just excited about a lot!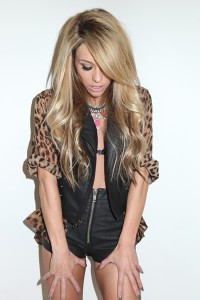 ***
And now for some Quick-Fire Biographical Trivia Questions. . .
What's your favourite colour?
Sky-blue, the color of my birth stone.
Favourite animal? Do you have a pet?
I love all animals. I'm literally animal obsessed.  I have a pet dog and a pet bunny.
What's your favourite food or meal? Do you usually eat-out, take-out, or cook yourself?
My favorite food is french fries. They are my weakness. I usually eat out.
First album you ever bought? (Was it a record/cassette tape/CD/digital download?) How old were you? Do you still listen to it?
First album I ever had was "CrazySexyCool" by TLC. It was a cassette tape. Haven't listened to it in ages!
What song do you have on constant repeat at the moment?
"Dangerous" by Big Data.
Favourite film or TV series of all time?
My favorite TV series of all time is "Friends".
What's the last book you finished? What are you reading at the moment?
The last book I finished was "The Hunger Games" [by Suzanne Collins] and I am currently reading a book called "The Seat of the Soul" [by Gary Zukav].
What's the last gig/concert/or festival you went to, which you didn't perform at?
Coachella [Valley Music and Arts Festival].
Coffee or tea?
Coffee
Which celebrity, if you met them in person, would you turn into a total, embarrassing fangirl about?
Michael Jackson.
What was the first poster you put on your wall as a young teen?
[A poster of] Jonathan Taylor Thomas [known for his role on TV sitcom "Home Improvement"].
Your favourite item of fashion/clothing right now?
I would say all the cute crop tops I have.
What's your essential, can't-live-without gadget?
My iPhone.
What qualities do you value most in a man or a woman? Are they different?
People who are passionate and people who have compassion for others.
What's your favourite journey?
So far, I'd say being on tour with Miley Cyrus.
Who is your ultimate hero?
My Dad.
What is your life motto or favourite saying?
"Everything happens for a reason." Cliché, but beyond true.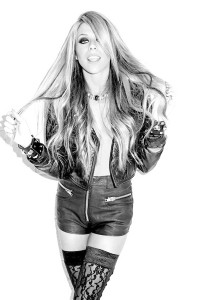 To keep up-to-date with all things Mandy Jiroux, please visit:
Web: www.mandyjiroux.com
Twitter: @MandyJiroux
Facebook: www.facebook.com/mandyjiroux
YouTube: www.youtube.com/user/MandyMJiroux