Arts Alliance have announced a deal with Syco, Modest! and Sony Music Entertainment to bring global music phenomenon One Direction to cinemas worldwide for just one weekend on 11th and 12th October, giving fans the chance to see the live show on the big screen for the very first time.
Currently in the midst of the epic 69-date 'Where We Are' global tour, One Direction: Where We Are – The Concert Film will give fans the opportunity to join the world's biggest band on stage for the One Direction concert experience.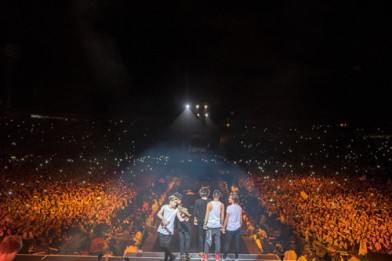 Recorded at the iconic San Siro stadium in Milan from the sell-out Italian leg of the tour, this one-off cinema event features the live concert including all of One Direction's biggest hits, plus a 15 minute never before seen interview cut with exclusive behind the scenes footage.
This global and exclusive celebration is a chance for many to watch the tour for the first time, or to relive the spectacle with friends and get closer than ever before in true high definition and 5.1 surround sound.
Event cinema distributors Arts Alliance Ltd will confirm more than 10,000 screenings in over 3000 screens across 50+ territories making this the biggest global 'event cinema' release ever.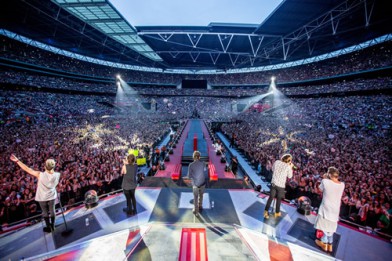 Tickets for the screenings will go on sale from 28th July. More information including locations of the film screenings and other exciting reveals will be released in the coming weeks via the film website at www.1Dconcertfilm.com and on the official One Direction social channels and follow the film using the official hashtag #1DWWAFilm
Watch the trailer:
Watch the boys announce the concert: