Over £300,000 was raised yesterday at the inaugural Niall Horan Charity Football Challenge at The King Power Stadium, Home of Leicester FC. Over 15,500 tickets were sold for the event.
Battling it out on the day was "Team Niall" with Manager Niall Horan, Assistant Manager Ben Winston, Assistant Manager and player Harry Styles, Liam Payne, Louis Tomlinson, James Corden, John Bishop, Ronan Keating, Jack Whitehall, Robbie Fowler, Mark Wright, Matt Le Tissier, Terry Phelan, Jay Duffy, Ian Taylor, Phil Neville, David James, Dean Saunders, Olly Murs and goalie David James.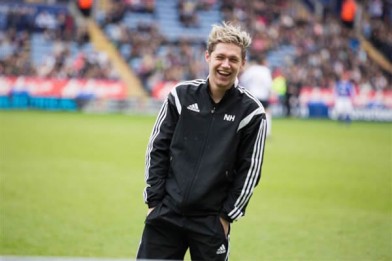 On "Team Piers" was Manager and Player Piers Morgan, Robbie Savage, Piers's son Spencer Morgan, Michael Vaughan, John Aldridge, Danny O'Carroll, Robert Pires, Shayne Ward, Steve Walsh, Dean Holdsworth, Jason McAteer, Shayne Ward, Steve Walsh, Kevin Cooper, Dean Holdsworth, Mark Chapman and Muzzy Izzet, Ambassador for IAA, Keith Duffy and goalie Conrad Logan.
Welcoming the teams on the pitch was comedian Ian Royce and commentating throughout the game was the voice of Old Trafford, Alan Keegan. The match official was well known Premier League referee, Phil Dowd, who faced one of his toughest matches ever trying to control these extremely competitive managers !!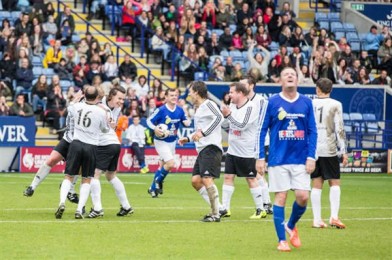 The first goal was scored by Robert Pires which gave "Team Piers" an early 1-0 lead in the first half !! But Harry Styles took the smile off Mr Morgan's face by scoring a fantastic goal for "Team Niall" at the final minute putting the match 1-1 !! The high pitched screams from the One Direction fans were deafening. The whistle blew at full time and the penalty shoot-out began. The excitement was fever pitch with the crowd willing Niall's team to score, but It was at the penalty stage that "Team Piers" eventually won the match !!! After a lap of honour Niall thanked everyone for coming to support his first charity football challenge.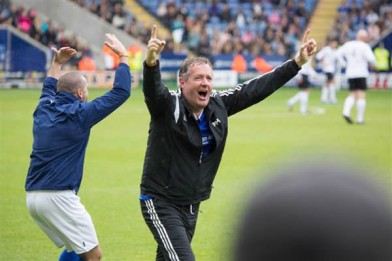 "Although my team didn't win, I still enjoyed every minute of this game", said Niall Horan, "I would like to thank all the players who donated their time free of charge to support this event. I am looking forward to making this even bigger and better next year. I am delighted we have raised significant funds for Irish Autism Action which is based in my home town of Mullingar, UK based Heart and Minds Challenge and the Leicester Foxes Foundation.