EofE, an up-and-coming 4-piece rock outfit from the Black Country have been given the task of warming up the crowd by McBusted on their mammoth arena tour. A huge achievent for a band that only firmed last year.

The band comprised of vocalist Tom Harris, guitarist Dan Bremner, bassist Luke Bradley and drummer Nicky Waters can't believe their luck after being picked for the run of dates. We caught up with the boys for a chat before the madness begins.
Hi EofE! For the fans that may not have heard about you, how would you describe the band and its' style?
Hello PopScoop, how are you ? We are edgy, guitar driven, different and fresh, we are the link that sits between Rock n Pop, we have catchy melodies and chorus's with a hard guitar driven riff, bass thumping, drum beating pure energy music.
What makes you different from other bands out there?
We all have different influences and we bring that to the mix, you can hear elements of the influences in our music. For example Tom is a huge Maroon 5 fan, and his vocals and lyrics are similar in style, Dan loves Slash so you can hear elements of G n R in his riffs, we all work together on tracks to make them stand out. We have been working hard and touring the UK, growing and developing, always looking for new styles, new inspiration.
You come from Birmingham so has the location had an influence on your music?
YEAH, Rock and Metal pretty much rule the Wild West Midlands, so to have Black Sabbath and Led Zeppelin routed in our home town has been an enormous influence, its allowed us to add an edge to our music, yet make it contemporary and modern too. The Midlands also has a good live music scene, lots of great intimate little venues, we have played them all :-)
Have there also been any artists who have inspired your music?
For Tom its Adam Levine, McFly , John Mayer (not just for his musical ability either ;-) . Dan its the Beatles, Slash, Avenged Sevenfold, Busted. Luke its mostly Motley Crue, Def Leppard, Don Broco, Nicky loves the Deftones and Karnivool, they all come together liking 30 seconds to mars, you me at six, Guns n Roses, the Rolling Stones, Sabbath and of course Led Zeppelin. We all are looking to better ourselves too, at present Dan is studying Brian Wilson of the Beach boys, and Lindsay Buckingham of Fleetwood Mac. We all know there is a wealth of talent to learn from and tap into.
You've recently released your new single, 'Kiss me like you mean it'. How did fans respond to that?
Really well, we've played it live on several occasions and the fans love it, so we decided to release it for free to give people new to EofE a taste of what to expect, and of course it would be great to get them singing along at our McBusted shows.
Understandably you must be thrilled to be touring with McBusted, what are you most looking forward to?
Our Tour Manager constantly getting us up earlier !!!
No seriously we cannot wait, we have done some small tours, a week here and there, but nothing any where near this scale, in terms of venues and dates. We are playing with some awesome new bands too, and of course McBusted which is an honour, we are just looking forward to playing, showing the UK what EofE are all about, and making new fans, meeting new people, its definitely going to be off the hook.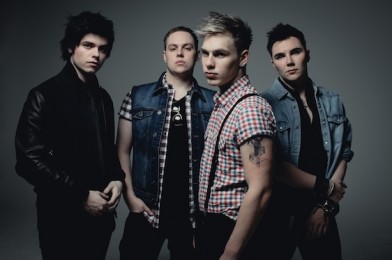 Have McBusted given you any tips for life as a boy band in such a competitive industry?
We haven't met them yet, our management have us locked away in rehearsals only letting us out for the odd Q+A . I'm sure its the same for them in terms of business too, we do have lots of questions for them though and it will be great to get their advice, and an autograph
What can fans expect from you on tour?
Energy, pure live music. We put everything we have into every show, its a journey through our music which we take the audience along for the ride. We have a few of our own songs and a cheeky little mash up/ cover. We want the audiences to be fully immersed in our set, and of course, want more EofE.
Will you be releasing an album soon?
At present that is scheduled for early 2015, we have 6 tracks recorded and completed, with a few more at various stages, we are back in the studio straight after this tour, so we will know more around Sept time, see how things are progressing. We have two new tracks which no one has heard yet which we are very excited about.
Finally, are there any plans for your own tour?
Yeah for sure, our Management are looking into a few options at the moment, we have some offers to support other acts, including a 30 + tour date across the USA, (which would be amazing) but ultimately we would like our own headline tour, when the time is right. For now we are just itching to get started on the McBusted tour. So i guess the answer is watch this space. Thanks for talking to us too, hope to see you at a show :-)
Check out their cover of We are the Ocean – The Waiting room below: