The king of reinvention, Boy George has had a long career with many ups and downs along the way. He has gained worldwide success as a DJ, but a return to live music in the form of his 'This is What I Do' tour is something the crowd at the Waterfront, Norwich have been eagerly waiting for.
George opens his set with three tracks from the aforementioned album, beginning with the dub trip-hoppy pace of 'Play Me', followed by classic reggae numbers in 'Live Your Life' and 'Love And Danger'. This was enough to get a full house of heads nodding in unison before transporting everyone back to 1987 with a revamped version of one of his first hit 'Everything I Own'.
"Stop a minute," Boy George signals to his nine piece band. He proceeds to order the crowd to put down their camera phones and enjoy his music the way it's supposed to be seen and heard. This brings the audience into an appreciative frenzy and as if by magic, the phones quickly disappear – for a short while at least.
We hear the new album in it's entirety during the two hour gig. No one, myself included were disappointed in this. The flow between new tracks and reworked classics was seamless. 'Church of the Poison Mind' is a full-on belter with the three horn section plus two backing singers really giving it all. Then came one of the most recognised intros in 80's pop. The jazzy trumpet and angelic backing vocals we're joined by a chorus of whistles from the crowd before erupting into a mass singalong of 'Do You Really Want to Hurt Me'.
'Karma Chameleon' is also given the subtle reggae makeover, heads bopping again before the distinct harmonica makes way for rapturous applause from the crowd. The band, notably Johnny Themis on guitar, then break into the T-Rex classic 'Get it on', before the brass section join in the rumpus.
More frenzy from the crowd comes in the form of 'Bow Down Mister', hand claps and chants of "Hare Krishna" soon has everyone in a trance like state.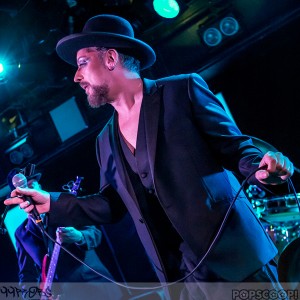 Like a finely aged wine, George's voice has improved with age. It resonates with a soulful maturity he simply didn't have 30 years ago, most prominent during 'Victims' with it's solo melancholy piano accompaniment and a beautifully sand closing cover of Louis Armstrong's 'What a Wonderful World'.
This gig had something for everyone. Those who came looking for a night of nostalgia through familiar hits were introduced to something new but still recognisable. I came to the venue unfamiliar with the new material and came out with a copy of the album in my collection. Job well done George!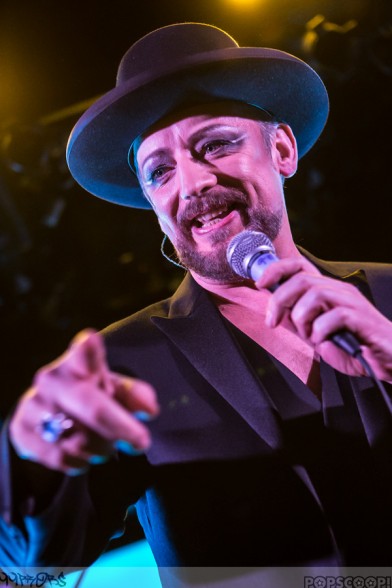 Photography by Lee Blanchflower at 99probs