Yesterday saw an exclusive rooftop gig with the newest big girl group to hit the charts, Neon Jungle. BBC Radio 1 Presenter Gemma Cairney was on hand to get the wild flower energy flowing and host the event.
The gig was held to launch a new campaign, Grow Wild, funded by the Big Lottery Fund and led by the Royal Botanic Gardens, Kew, which sets out to encourage people to get together to transform unloved spaces, gardens and windowsills into wildlife-friendly wild flower patches.
Neon Jungle and Gemma have been big supporters of the campaign after finding out that a staggering 97 per cent of the UK's native wild flower meadows have been lost and they want to help bring them back. The girls performed their brand new single Welcome To The Jungle.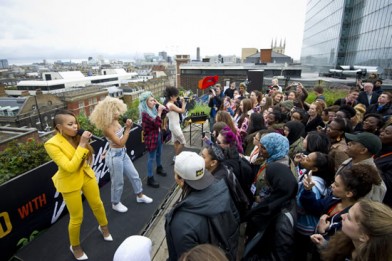 Also in attendance at the gig was up and coming model, star of Dirty Sexy Things, Charlotte De Carle, X Factor's Abi Alton and co-host of teen entertainment programme The 4:01 Show, Carina Maggar.
Gay Coley, Director of Public Programmes for the Royal Botanic Gardens, Kew said: "As well as helping our wild flowers to flourish and bring life to unloved spaces, Grow Wild is about people re-connecting with the natural world. It's about discovering and enjoying the beauty of our wild flowers and re-engaging with the spaces, places and people around us – and it's brilliant that Neon Jungle are getting involved to help us to do this."