The Big Reunion is back on ITV2 – acts that dominated the UK pop agenda from the mid nineties, selling millions of singles and albums, collectively achieving 57 top ten hits and nine number 1's – are making their return to pop life.
Eternal, A1, Damage, 3T, Girl Thing and newly formed pop "super-group" 5th Story (compromising solo artists Gareth Gates, Adam Rickitt and Kavana, along with Another Level's Dane Bowers and Blazin Squad's Kenzie) will relive the memories and return to the stage once more at the Eventim Apollo in Hammersmith on February 21st – tickets are available via www.eventim.co.uk/thebigreunion – which is expected to sell out shortly.
Coinciding with the hit ITV2 series will be the companion album, The Big Reunion 2014 released March 3rd. With all the hits including from Eternal (Stay, Power Of A Woman), A1 (Take On Me, Same Old Brand New You), Damage (Wonderful Tonight, Forever), 3T (I Need You, Anything), Girl Thing (Last One Standing, Girls On Top), and 5th Story (new recordings of their collective songs including Flip Reverse/ Crossroads, I Breathe Again), this is THE crucial collection to relive those hedonistic days of pure unadulterated pop.
The album also comes with a bonus disc of hits from The Big Reunion 2013 – From Five's 'Everybody Get Up' to Liberty X 'Got To Have Your Love', to Atomic Kitten's 'Whole Again', it's another chance to relive the epic first series. A standard edition of The Big Reunion 2014 album is available digitally only.
From BRITS to brawls, awards to arrests, platinum discs to debts, for some it's another chance for success, for others it will open old wounds as they prepare to face demons they thought they had buried forever. Whatever the story, the hits remain the same.
You can also see The Big Reunion 2014 at the London Eventim Apollo in Hammersmith on February 21st – tickets via www.eventim.co.uk/thebigreunion
This year's cast include: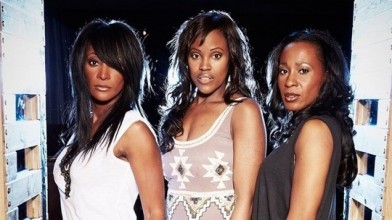 Eternal (Easther Bennett, Vernie Bennett, Kelle Bryan) were one of the biggest girl bands in the nineties and dominated the charts with a host of top ten singles and three top ten albums. 'Power of a Woman' and 'I Wanna Be The Only One' became anthems of the nineties but the girls were dogged by rumours of in-band spats, two members left leaving sisters Easther and Vernie to carry on until dropped by their label in 2000.
A1 (Ben Adams, Christian Ingebrigtsen, Mark Read) were formed in 1998 and were soon selling out arenas around the world and winning a BRIT award for Best British Newcomers but a fatal accident involving fans at one of their concerts was the catalyst to their split.
Damage (Jade Jones, Andrez Harriott, Rahsaan J Bromfield, Noel Simpson, Coree Richards). A blend of catchy pop songs mixed with R&B set this band apart from the traditional boybands. The success of their debut album and a high profile relationship with a Spice Girl saw them become household names but management fallouts and crippling debt left a bitter taste for these former pin ups.
Girl Thing (Jodi Albert, Linzi Martin, Anika Bostekaar, Michelle Barber, Nikki Stuart) were destined for big things. Signed by Simon Cowell they embarked on a mammoth promotional tour which saw them grace the covers of national magazines and interviewed on every TV talk show, but after just two singles they were unceremoniously dropped and saw their supposed third single 'Pure and Simple' head into the record books with another band.
3T (Taj, TJ, Tayll Jackson) come from a music dynasty and just like their famous father, uncles and aunty, they began performing at young ages but the path to fame has come at a price for the three brothers. The platinum-selling artists had to deal with personal tragedies, whilst their careers suffered as their family members were plagued by allegations and negative news stories.
5th Story (Gareth Gates, Dane Bowers, Adam Rickitt, Kavana, Kenzie) have achieved global success as solo artists or members of other groups. Combined they have had 27 top ten hits including five number ones, have won, Mobo, Smash Hits and MTV awards and performed sell out concerts around the world.