Little-me this, little-me that, how do the Little Mix girls keep stepping up to bat and never falling flat? Well, they've done it again with "Little Me", the second single to be taken from their sophomore album "Salute". It's indeed "like Christmas Day came early". . .
Since 4-piece Brit girl group Little Mix (Perrie Edwards, Jesy Nelson, Leigh-Anne Pinnock and Jade Thirlwall) were formed during X Factor 2011 and then became the first group ever to win the competition, they've had six hit singles including two #1s, their debut album "DNA" went platinum in the UK and they sold-out a headline UK tour. In addition, they broke the Spice Girls' existing record for the highest ever US chart debut by a Brit girl group, entering at #4 with their first album.
Released hot on the heels of lead single "Move", "Little Me" is further proof that Little Mix have matured and developed since their debut, whilst still retaining their original wholesomely perky/funky vibe. Whereas "Move" was a uniquely off-beat turbo-charged take on the bouncy "Wings", "Little Me" is a power-pop ballad in the mold of "DNA" and "Change Your Life", but with deeper feeling and purpose.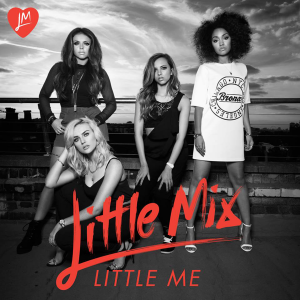 Frequent collaborators TMS are back on production duties and together with the girls have crafted a mid-tempo track built around a melancholy sample taken from "Pavane" by French classical composer Gabriel Fauré (also feat. in S Club 7's "Natural" and Xzibit's "Paparazzi"). True to Little Mix's love of 90s pop/R&B nostalgia, the catchy melody ebbs and flows via tight vocal harmony hooks a la SWV, backed by thunderous beats and rousing strings – it even ends with a hands-in-the-air clap-along fade-out.
"Little Me" has a strong message of inspiration and liberation, all about the girls' present selves telling their younger, little selves not to worry and to "speak up, shout out, be a bit prouder" and believe that they are already "beautiful, wonderful". The track thus follows and holds its own in the grand tradition of R&B empowerment ballads such as Sugababes' "Ugly", Destiny's Child's "Survivor" and Christina Aguilera's "Beautiful". The song's music video further underlines its heartfelt meaning: shot in earnest B&W, the girls emotively sing in an abandoned warehouse, interspersed with "real" girls and women talking about their hopes, dreams and insecurities.
With a support slot on Demi Lovato's winter US tour and their own second headline UK summer tour just announced, Little Mix now have a(nother) bona fide anthem with which to harness their super-fan Mixers and continue their world domination. Buh-bye Little Monsters, hello Little Me(s)!
Release Date: 22nd December
Watch 'Little Me' below: