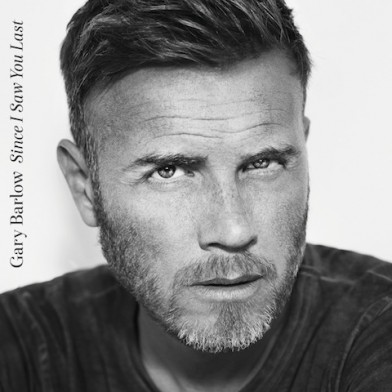 Last week Gary Barlow offered fans the chance to preview tracks from his forthcoming solo album 'Since I Saw You Last'. Using specific hashtags, they were able to unlock the tracks and hear 1.30 minute clips. The previews are now available on Gary's YouTube channel to hear.
'Let Me Go' is the lead single from Gary's first solo studio album in over 14 years entitled 'Since I Saw You Last' and will be released through Polydor Records. The album will also feature a duet with Elton John written by Gary, entitled 'Face To Face' which can be previewed on the link above.
Gary received an incredible reaction from fans on Twitter after he announced his new album was going to be released on November 25th. Alongside the titles and the artwork reveal he also confirmed that the first single 'Let Me Go' will come out the week before the album on November 17th.
'Let Me Go' is an intriguing shuffle in song style for Mr Barlow, who has been jointly responsible for some of the biggest pop songs in British music history. It leads with a beautifully simple acoustic guitar riff that forms the basis of the entire song before breaking into one of the catchiest choruses in recent memory.
The video for 'Let Me Go' was filmed on the streets of New York City and was directed by Ben Winston who worked with Gary on the Diamond Jubilee documentary 'Gary Barlow: On Her Majesty's Service' and more recently produced the 'One Direction: This Is Us' documentary feature.
Gary wrote all the songs for 'Since I Saw You Last' in London and recorded them mainly between his own Future Studios and producer Steve Power's TOP Studios, with the strings arrangements captured at Abbey Road Studios. See full track listing below.
With Take That Gary Barlow can count eight Number One albums, selling more than 30 million copies, to his name. He has also be party to fifteen No.1 singles, sold seven million concert tickets as well as being the proud recipient of six Ivor Novello Awards. He was awarded an OBE for his contribution to British music last year following the work he has done with BBC Children In Need and the hugely successful Queen's Diamond Jubilee Concert.
Gary toured the UK on his own last year to acclaim by fans and critics alike. The tour went across the UK including a special evening at The Royal Albert Hall in support of The Prince's Trust.
Gary's last solo album 'Twelve Months, Eleven Days' was released in 1999, with his debut solo record 'Open Road' hitting the No.1 spot in May 1997.