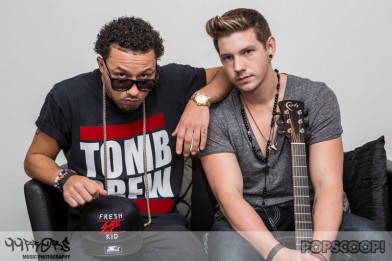 We caught up with the amazing De' Vide at Epic Studios in Norwich for an acoustic session. Here they are performing a cover Chaka Khan's Ain't Nobody.
De' Vide are rapper/MC Lex Flowers and acoustic/vocals Barny Holmes and their sound is best defined as a funk-inflected fusion of hip-hop, R&B, soul and indie. In their own words they are "like pick 'n' mix – we've got a little bit of everything".
Their big break came when they reached the blind auditions of The Voice UK 2013 and were chosen by Jessie J for her team. Although they were subsequently eliminated during the battle rounds, the fan following and overwhelmingly positive feedback boost they received spurred them onwards.
Our Photographer Lee Blanchfower of 99Probs was also at hand to give us these shots of the boys backstage at Epic Studios Norwich.