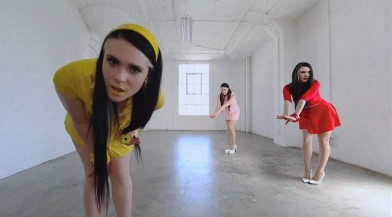 In a colour-popping sixties-inspired video, Kate Nash dons numerous wardrobe, hair and makeup changes to symbolise how she couldn't be herself when said friend targeted in the song was unkind. The video sees a clean white backdrop with a solo, long-locked Kate pulling shapes in a rainbow of mini dresses, white court shoes and white platform mary janes.
Watch the video for 'Fri-End?' below:
 

 
Kate is a platinum-selling artist and a front row regular at New York and London Fashion Weeks. She performs her European Homecoming gig on Saturday the 12th at the O2 Shepherd's Bush Empire.
A recurring face in glossy magazines and a model for clothing companies on both sides of the Atlantic, Kate relates fashion to music and enjoys the symbiotic relationship the two industries have.
Kate released her first single in 2007 and was crowned 'Best Female Artist' at the 2008 BRIT Awards. Now touring her third album, Girl Talk, Kate continues to layer her profile with fashion, acting and writing. The last three years have seen Kate star in feature films such as Syrup, Greetings from Tim Buckley and Powder Room (launching in November) and DJ and perform on the catwalk at London and New York Fashion Week's most exclusive events including for Vogue, Felder Felder and The Untitled Magazine.
Website: www.myignorantyouth.com / Twitter: @katenash