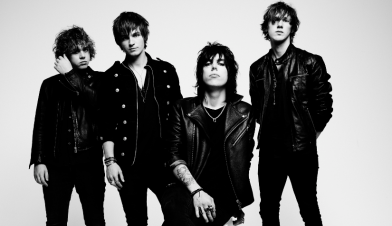 After many years of waiting, a band have arrived with the flamboyance, the style and, yes, the strut to match their rebellious tunes. Luke Spiller (Vocals), Addo Slack (Guitar), Jed Elliott (Bass), and Gethin Davies (Drums) make up Derby-based indie rockers The Struts. They are set to release their debut single 'Could Have Been Me' on November 18th through Virgin EMI Records.
An unapologetic sing-along anthem of epic proportions, 'Could Have Been Me' presents The Struts at their riveting best. A heartfelt ode to living in the moment, the song is an outright assault on the senses conjuring up the camaraderie and nostalgia of youth whilst showcasing the rock 'n' roll glamour and unique blend of classic influences that set these boys apart in an era where not many dare to break convention.
With lead-singer Luke Spiller recently becoming a face of cult British shoe label Jeffery West, the single's video is filmed in co-founder Guy West's rock'n'roll manor.
The band recently gained recognition with their instantly addictive track 'I Just Know' which featured on the recent Primark Denim campaign.
In Luke Spiller The Struts are blessed with a frontman who, in his own words states 'I was born to do this. And I'll die doing it.' Outspoken and unstoppable, his presence, style and vocals are reminiscent of legendary performers such as Mick Jagger, Freddie Mercury and Steven Tyler. The one time cleaner and son of a born-again Christian considered throwing in the towel on his dream until he was introduced to guitarist Adam Slack in 2009. Adam may have been living in Derby, but Luke uprooted himself on the spot. The pair spent a year writing songs before recruiting Jed Elliott and Gethin Davies to complete the line-up.
A combination of much-missed old-fashioned showmanship, songs big enough to headline festivals with and dazzling musicianship, The Struts are here to inject a rich shot of colour into UK guitar music's currently grey landscape.
Watch full video for 'Could Have Been Me' here: