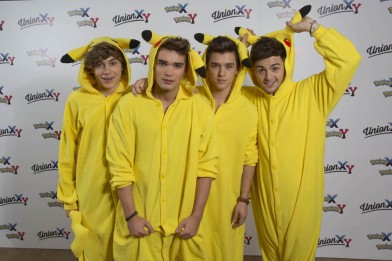 In a move that reflects their enthusiasm for everything Pokémon, Union J have announced that they will change their name to Union XY to mark the launch of the Pokémon X and Pokémon Y video games for Nintendo 3DS™, on October 12th.
For one day only, Union J will celebrate the release of Pokémon X and Pokémon Y with their name change to Union XY—a suggestion made by band member George Shelley and supported by his band mates. The official press announcement was made at the Charlotte Street Hotel in London, where the band revealed the news dressed in Pokemon "onesies".
"We've always loved Pokémon and it was a massive part of my childhood, I'm hooked on it," explained George. "When I was telling the rest of the band how excited I was about playing Pokémon X and Pokémon Y, the idea to change our name just came to me. It's so cool to be part of the game in some way; it feels like a natural fit."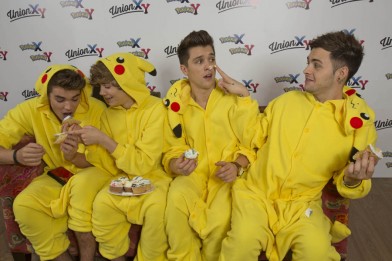 Josh, Jaymi, George, and JJ are all fans of Pokémon and are familiar with each generation of Pokémon games. During the filming of the X Factor, Josh and George brought Nintendo DS™ systems to play Pokémon Black, JJ loves Pokémon Emerald, and Jaymi's favourite game is Pokémon Crystal.
The official name change will happen on October 12th, the same day as Pokémon X and Pokémon Y release exclusively on Nintendo 3DS.
For further updates on Union XY, take a look at their Twitter page: @UnionJWorld.
For more information about Pokémon X and Pokémon Y for the Nintendo 3DS family of systems, including new images and gameplay video featuring information announced today, please visit Pokemon.co.uk/XY.