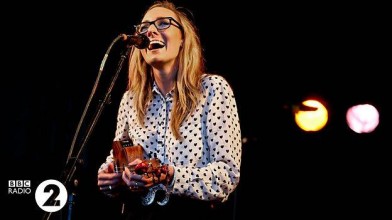 Emma Stevens releases her brand new single Riptide on 21st October, 2013 as she continues to ride the wave of excitement that culminated in her recent performance to 40,000 people in London's Hyde Park as part of BBC Radio 2's Festival in a Day.
Emma Stevens originally came to the attention of BBC Radio 2 producers after she uploaded her songs to the BBC Introducing website. Legendary presenter Terry Wogan was immediately enchanted by Emma's songs and voice and invited her in for a live session as did breakfast show host Chris Evans for whom she also performed live on air; unprecedented exposure for an unsigned artist, self funding her own releases.
'Riptide' is the lead single to Emma's fourth EP release, completing a set of limited edition EPs whose artwork fits together like a puzzle forming one beautiful painting, originally created by the singers mother, who sadly died of cancer. This image will form the artwork for Emma's debut album release entitled 'Enchanted' on 13th October, 2013.
Talking about her new single, Emma Stevens said: "What an incredible journey this has been so far! After headlining the BBC Introducing Stage in Hyde Park, I am so thrilled to bring you my new single "Riptide" which is about the excitement of something/someone that may be slightly out of your comfort zone but you love it!"
Emma is an incredibly talented singer songwriter and multi-instrumentalist playing guitar, piano, cello, ukulele, banjo, mandolin, percussion and baritone guitar as well as singing on all songs!
To support the release of Riptide and the forthcoming album Emma will be performing a number of intimate live shows and supporting some of her favourite artists starting with two support shows with singer Stu Larson, followed by further shows with Sam Gray in September and October and as main support to artist Jenn Bostic in November and December.
For full live dates and further information visit www.emmastevensmusic.com