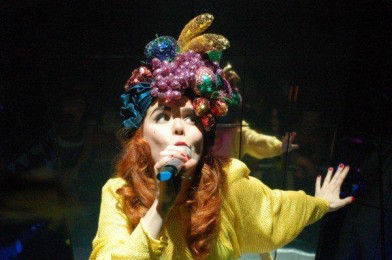 The Symphonic Grace tour will see Paloma Faith team up with 42-piece Guy Barker Orchestra to present full-blown orchestral arrangements of her own material intermingled with classic jazz ballads, backing singers and fabulous costumes, expect Paloma Faith at her most epic.
Guy and Paloma will reprise some of the material they have covered in the past, but will also include new orchestral arrangements of Paloma's latest album, the Brit-nominated album, Fall to Grace, including the hits Picking Up The Pieces and 30 Minute Love Affair, as well as a few other surprises on the way.
Having worked with Paloma Faith on Jazz Voice and at Cheltenham Jazz Festival, led composer Guy into discussions about touring with her and Music Beyond Mainstream became the natural partner for the project.
Guy Barker said: "Paloma Faith is a truly remarkable artist and an amazing performer, loved by her fans and also a huge favourite with many other great artists. So on this very special tour she with be collaborating with the dramatic forces of an orchestra made up of 42 world class musicians. The tour will feature specially arranged orchestral versions of songs from her highly acclaimed album Fall to Grace, plus many other songs. With the orchestra and her backing singers there will be a total of 46 people on stage. This promises to be a truly spectacular evening."
The Symphonic Grace is yet another bold step in Paloma's adventurous career.
Paloma said: "I'm so excited to performing with Guy again and looking forward to putting a new spin on the songs with the new orchestral arrangements."
Paloma is proving to be one of the most innovative and creative female singers of her generation; never afraid to take risks or push boundaries. A captivating chanteuse, a rabble-rousing entertainer and theatrical fashion chameleon, her debut album, 'Do You Want the Truth, or Something Beautiful?' remains a glossy collection of retro-referencing soul and sassy pop.
From the off Paloma has always been meticulous in mapping the visual imagery to accompany her music, be they videos, photographs or set design. Ever the film fan, Faith looks on this second record as the union of her first two loves: film and music. It's the soundtrack to her life. "I wanted it to be a homage to film, for everything to look and feel and sound like it was part of a movie."
Of course where these songs, and Paloma Faith, truly come alive is onstage. It's before an audience that every aspect of her vision is fully realised. It's in the live delivery that Faith connects with her audience.
"A lot of people write songs because they want to record them in a studio, they want put their feelings out there," she says. "I don't write songs for that reason: I write songs so I can perform them."
The British trumpet maestro, arranger and composer Guy Barker was born in Chiswick, London, the son of an actress and a stuntman. His music is notable for its grace and invention and his original compositions confirm that he's a witty composer as well as a polished musical mind. As a sideman he has played with many major musicians, including Georgie Fame, Mike Westbrook, Frank Sinatra, Chris Hunter, Mike Oldfield, and Cleo Laine.
For the past five years he has opened the London Jazz Festival with his signature epoch-spanning celebration of singing and songJazz Voice – Celebrating A Century Of Song, in which his 42-piece orchestra has backed special guest vocalists. Past guests include Georgie Fame, Boy George, Kurt Elling, Sheila Jordan, Gregory Porter, Paloma Faith and Patti Austin.
The Symphonic Grace tour dates:
Tue 22 Oct 13 Bristol Colston Hall 0844 887 1500 www.colstonhall.org
Wed 23 Oct 13 Coventry Warwick Arts Centre 024 76524524 www.warwickartscentre.co.uk
Thu 24 Oct 13 London Barbican 020 7638 8891 www.barbican.org.uk
Sat 26 Oct 13 Nottingham Royal Concert Hall 0115 989 5555 www.trch.co.uk
Sun 27 Oct 13 Liverpool Liverpool Philharmonic 0151 709 3789 www.liverpoolphil.com
Mon 28 Oct 13 Manchester Bridgewater Hall 0844 907 9000 www.bridgewater-hall.co.uk
Tue 29 Oct 13 Edinburgh Usher Hall 0131 228 1155 www.usherhall.co.uk
Wed 30 Oct 13 Gateshead The Sage Gateshead 0191 443 4661 www.thesagegateshead.org