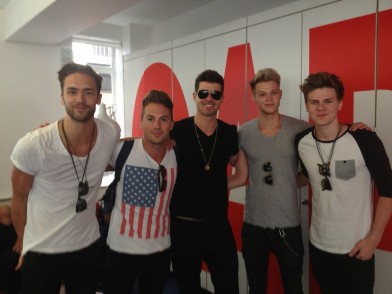 Yesterday the Lawson boys bumped into Robin Thicke in the studio and ended up promising to run naked through London if they win the chart battle. They even offered to be the naked girls in his next video!
Lawson posed naked earlier this month for the August issue of Cosmopolitan (on sale now) to raise awareness of male cancer for Cancer Research UK.
Speaking about the dare, Andy said: "We bumped into Robin Thicke in the studio yesterday. We are loving him at the moment, can't get enough of him so it's pretty full on to think we are now up against him in the charts with 'Brokenhearted' this weekend.
He added: "I promised that if we make it to number one that I'll run through London naked. If we beat Robin Thicke then maybe we can make a Thicke/Lawson remix with his video and Lawson in the background instead of the girls he had… I'm not certain he would go for it though!"
If you haven't checked it out already then check out the 'Behind The Scenes' of the video for 'Brokenhearted'
Mid-week results will come out later today so could be the case of one step closer to naked Lawson once again….!
Borkenhearted (feat. B.o.B) is out NOW. Get it on iTunes HERE