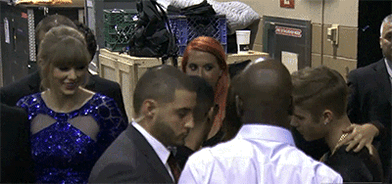 Taylor Swift may have impressed on stage at the Billboard Music Awards, but it's this video of her backstage sticking her tongue at pop singer Justin Bieber backstage that has gone viral.
Swift and Selena Gomez went backstage together during the ceremony but at one point Selena went over to ex-boyfriend Justin and the couple shared a kiss.  Taylor Swift watched on with public displeasure.
Apparently sources say Bieber later realised he's on camera and tried to have his security guard stop the filming.