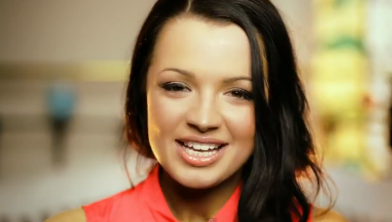 Boom! Shake-shake-shake the room. Tich-Tich-Tich-Tich Boom!! A new 19-year-old pop tartlet (woops – sorry, starlet) has truly arrived, and her name is Tich.

Tich previously traded under her birth name Rachel Furner, gaining steady success as a singer-songwriter supporting acts such as Paolo Nutini, Pixie Lott, Justin Bieber, JLS and Olly Murs. She was signed by Mercury Records and released a single 'Sticks & Stones' in 2010, but a full album unfortunately never materialised.
All this changed however when she garnered support and major tweetage from X Factor '12 winner James Arthur, as well as The Wanted and One Direction, after covering their singles in her own front room and uploading them onto YouTube (#CleverGirl!). Now, rebranded using her childhood nickname and following the soft launch of EP 'Candlelight' back in December, Tich has released her official debut single 'Dumb'. The song, taken from her forthcoming album which has been co-written with the likes of Matt Prime, Nick Jonas and Andrew Frampton, is about those times post-breakup when you realise – Doh! – that you've just been really stupid and gone and carelessly dumped the wrong guy. "You don't know my mind, then again nor do I […] Think I might have got this wrong, sorry but I didn't know you were the one […] Now I know that you're the one, sorry that I've been so dumb".
But Tich ain't dumb, far from it! Rather than entirely ditch her previous recording persona a la Duffy or Amy Winehouse, Tich has kept her look and sound largely consistent over the years. Still there are the tumbling black locks, eyeliner flick, sparkly/quirky girly tops, colour-contrast nails and heaps of bangles and chunky bracelets – she basically looks like model Daisy Lowe's precocious little sister (apologies to real sister Betty Lowe are due, of course). Still there is her sweet yet husky alto voice, which breaks and cracks in just the right rock-chick manner and doesn't deny her Midlands/London roots.
Still there are the keyboards she plays herself and the emotional, confessional nature of her lyrics. What has been given a fresh coat of musical paint is the surrounding production. Rather than the solely piano and strings-based acoustic vibe of her previous work (such as 'Breathe In Breathe Out' and 'Kingdom'), 'Dumb' has been given the full playful fizz-pop treatment with mega-beat, abrupt stop-and-starts, multi-tracked vocal chorus, and backup singer "hurray" loop. It's as if someone had taken one of Tich's early songs and – STAT! – applied a defibrillator. It's still Tich, but now it's REALLY amped-up Tich!
In the case of breakout artists, it's always hard to avoid the shorthand of comparisons, and with Tich the list is long and illustrious: she's a pianist-singer like Tori Amos, Alicia Keys, Vanessa Carlton and Christina Perri; she's a cheeky, kooky unashamed true-Brit like Lily Allen and Cher Lloyd; she's a cute and unconsciously sultry late-teen girl-next-door like Demi Lovato.
You can rest assured though that based upon the slick, melodic ease of her extensive back catalogue of original songs and skilled covers, and the ubercatchy pop-napalm that is 'Dumb', Tich is much more than just a lucky chance-concoction. She will be around for some time to come and we like her. . . "a lot".
Get your copy of 'Dumb' on iTunes now

Also available on Amazon:

Watch the video to 'Dumb' below: