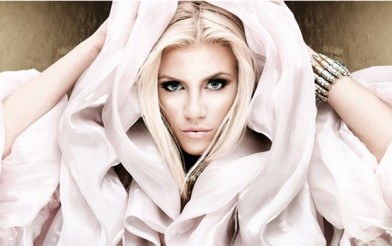 Grace Valerie is the latest protégée spotted by Grammy Award-winning producer Randy Jackson. The American Idol judge has been vocal about his support for The Russian beauty who he says is "very cool…Madonna meets Britney". Jackson is excited about the new talent, "I'm expecting big things". Check out our interview with Grace!
Grace experienced success with her US debut last year, 'When the Lights Go Down', reaching #17 on Billboard's club play chart. The music video hit 400,000 views in just two days and reached a staggering 1.5 million views by the end of the summer.
The follow up, 'Don't Wanna Be Waiting', had its UK release last November and a debut album is in the works. We got the chance to chat with dance Diva!
You've been in The United States for a few years now. What 3 things do you miss the most about Russia?
I miss my family! I miss my friends! I Miss my fav Russian food.
What did you grow up listening to in Russia and what were your musical inspirations?
I grew up listening to Destinys child, Britney Spears and Christina Aguilera. I also love Mariah Carey; I've learnt a lot from all of them.
What has life been like since joining Dream Merchant 21 and how is Randy Jackson as a boss?
I love Randy. He is amazing, my life changed as soon as he signed me; every song we've recorded together means so much to me.
Your latest video for 'Don't Wanna Be Waiting' looks set to overtake your debut 'When the Lights Go Down' with almost 1.5million views already. How does it feel seeing such huge progress?
It feels amazing. I grew as an artist but it's not enough for me. I keep on working hard and I feel that I am getting closer and closer to reaching my goals.
What could we expect from your other tunes and when should we be expecting the first album?
I think I will be ready to release my first album in early 2014. I love to experiment with my sound but most of my tunes are going to be pop/dance.
Are there any plans for a UK visit?
Definitely. I really hope I can visit UK this Summer.
What songs/groups do you have on your current ipod/playlist?
My favourite albums are: Rihanna 'Unapologetic', JT 'The 20/20 experience', Miguel 'Kaleidoscope Dream'. I also love Swedish House Mafia, Trey Songz 'Fumble', 'Dive in' and One Republic's new album is so good. My favourite song now is Ed Sheeran 'Lego House' and Bruno Mars 'when I was your man'.
If you could collaborate with anyone in the world, who would it be?
BEYONCE! My biggest inspiration! And her hubby Jay Z.
If an alien came down to earth and you could recommend them one album to listen to what one would it be and why?
Beyonce – 4. I think it's amazing!!
What and where would your dream date be?
I love the ocean. So my dream date is to dine or walk near the ocean and talk about anything.
If you could take three attributes from three men to make your perfect man, what would they be and which three men?
Ian Somerhalder – body. Neil Patrick Harris – sense of humour. Trey Songz – charisma.
What are the 3 most essential items you carry in your handbag or purse?
Hand sanitizer, lip gloss, credit cards.
If you could go back in time and give some advice or warning to your younger self, what would you say?
Don't trust everyone. I am always very open to people and some of them use it against me.