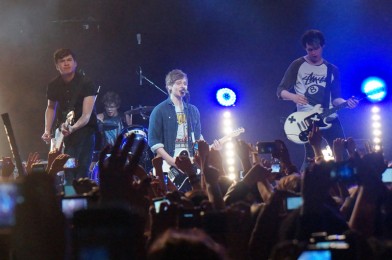 5 Seconds of summer aka 5SOS, were almost unknown a few months ago when they landed in London to record material for their album but after six on the road with One Direction and their 'Take Me Home' tour, they gained so many new fans that each show they announce sells out within minutes.
After playing a sold out Barfly (Camden) the 7th of May this year, they're already playing the O2 Academy Islington, for two sold out shows.
Last night (Sun 12 May 13), the four Australian lads, Luke, Calum, Michael and Ashton, gave a performance of old and new hits to their new dedicated fanbase at O2 Academy Islington.
Arriving at 6pm, one hour before the doors opening time, already ¾ of the girls (and rare boys) were already waiting to get in, around 6.30pm the excitement was growing, and at 6.55pm just before the doors opening, Calum (bass player) showing his face through the stage door didn't really help to contain it.
At 8.30pm, after a quick opening act, the boys arrived on stage, acclaimed by screaming girls, and started playing Lost Boy, and chained up with Year 3000 (a Busted cover), the sing along for this song was incredibly amazing. Cover wise Teenage Dream from Katy Perry also had great success.
The whole show was light up with some of their most famous songs Beside you, Over and Over, Heartbreak Girl, or Out of My limit. Over their songs, the level of screaming and singing along was absolute madness, the four lads couldn't believe it, we could really see that they were so grateful to have so many loving fans. But the energy of the guys and the public was more than amazing during their song Try Hard, the simple reason for that is that they announced that they were filming that bit for something special, maybe a new music video.
Approximately an hour and ten minutes later, the boys left stage with a smile on their faces, and the fans left the venue crying, smiling, or running to be the first to get to the stage door and hope to get a glimpse of the guys' leaving (which they did, Calum said hi through the van's window!).
After this 12th of May show in London O2 Academy Islington, they'll play tonight the 13th of May at the Birmingham O2 Academy, and end their mini tour by the London O2 Academy Islington again on the 14th of May. Everything is already sold out.
Full setlist:
Lost boy
Year 3000
Good girls
Try hard
Beside you
Gotta get out
Over and over
Teenage deam
Green light
Voodoo doll
Heartbreak girl
(encore)
Out of my limit
Try hard
Check out the gallery from the gig below:
[nggallery id=5]