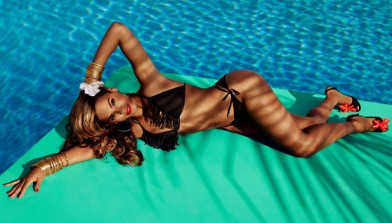 The 'Halo' singer has given her third taste of new music -rumoured to be included on her forthcoming fifth album – in a new video for clothing brand H&M.
The video sees the 31-year-old star modelling a series of bikinis from the brand's 2013 summer collection on a beach in the Bahamas accompanied by the song, which starts with a low key calypso-style beat.
In the one and a half minute preview of the track, Beyonce sings: "I can't deny your desire, feel like I'm on fire / When you touch me, I feel the flame they can never feel.
"Can you feel the heat on my skin / Can you feel my loving / You and me, we're standing on the sun."
In the clip Beyonce is seen writhing around on the beach and in the sea, then surrounded by fire-breathing dancers and sitting in a wicker chair.
last night (24.05.13) the singer treated fans to a full version of another new song, performing 'Grown Woman' live for the first time in Paris as part of her The Mrs. Carter Show World Tour. Snippets from the song were previously heard in a Pepsi commercial.
Beyonce has also previewed another song, 'Bow Down' through her blog in March, but at present she has not set a date for the official release of new material.
Watch Beyonce: 'Standing on the Sun' in New H&M Mrs. Carter Video!