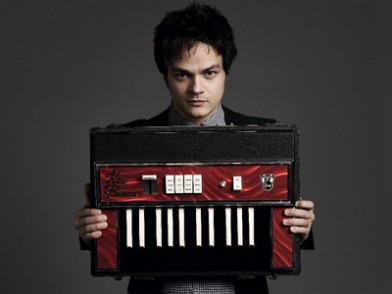 Last night Jamie Cullum appeared on BBC's 'Later… with Jools Holland' for the very first time in his career  and will also be releasing 'Love For $ale' as a special 7″ for Record Store Day.
Jamie performed 'Save Your Soul' taken from new album 'Momentum' at the newly relocated studios in Maidstone, Kent. View the performance below:
The full show will be aired this Friday and shall also see Jamie play new single 'Everything You Didn't Do'.
Jamie will also be releasing 'Love For $ale' as a limited edition 7" to celebrate Record Store Day on April 20th. The track is a cover of Cole Porter's classic featuring Jamie on piano and vocals and legendary British rapper Roots Manuva on rap vocals, set over the bass line to 'Witness The Fitness'. On supporting Record Store Day Jamie said,
"Despite the shrinking interest in physically owning music the survival of independent record stores is crucial if we are to continue to have one of the most exciting and diverse music industries in the world. A great independent record store is an authoritative curator in an endless sea of sounds; it should be like your cool and interesting best friend who is always showing the way to new worlds. Without them we'd all be much more boring. "
See the video here: http://youtu.be/QFo0fpl7Txo
Multi-million selling Cullum releases his new album 'Momentum' through Island Records on May 20th. The album is bursting with ideas and inspirations drawn from an eventful couple of years. Jamie approached this record in a completely different way to his usual process, for the first time using DIY home demos as a blueprint for the majority of the tracks and using his iPhone on the move to lay down basic song production; some of which made the final cut!
The album was produced in part by Jim Abbiss (Artic Monkeys, Adele) and Dan The Automator (Kasabian, DJ Shadow). The first official single to come from 'Momentum', titled 'Everything You Didn't Do', will be released on May 12th.
Momentum is available to pre-order on iTunes here Momentum – Jamie Cullum