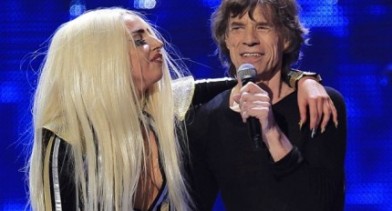 Lady Gaga joined the Rolling Stones on stage to sing Gimme Shelter, then partied at The Carlyle Hotel, New York City, to celebrate their collaboration on Sunday at the group's final '50 and Counting' anniversary show.
The veteran rockers and Gaga enjoyed a "relaxed" affair at The Carlyle Hotel, New York City, with 150 others following their collaboration at the Prudential Center in Newark, New Jersey.
"The party went from around midnight to almost 3am. They really just hung out, relaxed and all chatted with each other." An insider told the New York Daily News newspaper.
Earlier in the evening, Gaga performed a rendition of 'Gimme Shelter' with the Stones for their final '50 and Counting' show, which also saw them take to the stage with Bruce Springsteen and The Black Keys, to celebrate their 50th year of rock 'n' roll.
The group enjoyed another star-studded party at The Carlyle Hotel on Thursday night to celebrate their penultimate '50 and Counting' show earlier in the evening.
A source told the New York Post newspaper: "It was a pretty laid-back party. Charlie Watts left before midnight, but he's 71."
Guests at the event included Mick's daughter Jade Jagger and his girlfriend L'Wren Scott, Ronnie Wood's fiancée Sally Humphreys, Keith's wife Patti Hansen and Foo Fighters rocker Dave Grohl.
Watch Lady Gaga sing Gimme Shelter with the Rolling Stones:
[youtube_video id="o3bd4ZdWHxo"]