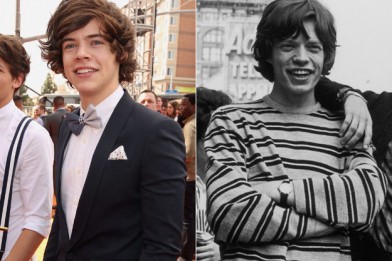 Mick Jagger has revealed the One Direction frenzy created by fans remind him of The Rolling Stones early career in the 1960s.
Speaking at the US premiere of new Stones film 'Crossfire Hurricane', Jagger told CNN: "I watched a concert of One Direction on the TV the other night, you know just to check [it] out,
"It reminded me very much of our early concerts, when we were pushed around among the audience and we would kind of float.They were like, floating above the audience, and they looked really distinctly uncomfortable."
Jagger went on to further discuss how footage of One Direction had triggered memories.
"I remember feeling that same uncomfortable feeling of being pushed around in this very weird place about 50 years ago.
"It was a very funny moment, because it was very similar to the things we've been through."
Ronnie Wood has also spoken of how he gave the boys advice in the beginning: "I remember them before they made it and I said, 'come on stick with it boys, you can do it,'"
Wood even went on to say he would count One Direction as "pals", insisting he would happily meet up with the band for a jam.
"They still want me to come and jam with them. I said, 'yeah, I'll come and play with you anytime.'"