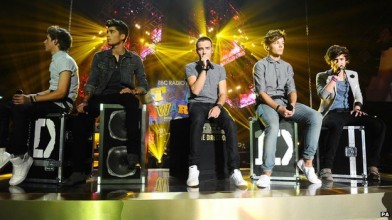 One Direction are embarking on a string of European tour dates in May 2013.
The boyband  have become one of the biggest groups globally, selling more than 12 million records in one year.
The 18-date tour will take the heartthrobs to venues across France, Norway, Sweden, Germany, Belgium, the Netherlands, Italy, Spain, Switzerland, Portugal and Denmark.
The European dates will follow their upcoming UK arena tour in February and March 2013, which will see the boys performing at London's O2 Arena over nine dates.
One Direction – European Tour Dates:
Monday 29th April – Percy, Paris
On Sale Friday 02 November, 10am
Tuesday 30th April – The Galaxie, Amneville
On Sale Friday 02 November, 10am
Wednesday 1st May – Sportpalais, Antwerp
On Sale Saturday 03 November, 10am
Friday 3rd May – Ziggo Arena, Amsterdam
On Sale Saturday 03 November, 10am
Saturday 4th May – Koenig-Pilsener Arena, Oberhausen
On Sale Friday 02 November, 9am
Sunday 5th May – Boxen, Herning
On Sale Monday 05 November, 10am
Tuesday 7th May – Telenor Arena, Oslo
On Sale Friday 02 November, 9am
Wednesday 8th May – Friends Arena, Stockholm
On Sale Friday 02 November, 9am
Friday 10th May – Forum, Copenhagen
On Sale Monday 05 November, 10am
Saturday 11th May – O2 World, Berlin
On Sale Friday 02 November, 9am
Sunday 12th May – O2 World, Hamburg
On Sale Friday 02 November, 9am
Thursday 16th May – Hallenstadion, Zurich
On Sale Friday 02 November, 9am
Friday 17th May – Olympiahalle, Munich
On Sale Friday 02 November, 10am
Saturday 18th May – Arena, Verona
On Sale Saturday 03 November, 10am
Monday 20th May – Forum, Milan
On Sale Saturday 03 November, 10am
Wednesday 22nd May – Pevello Olympic, Barcelona
On Sale Monday 05 November, 10am
Friday 24th May – Palacio Vistalegra, Madrid
On Sale Monday 05 November, 10am
Sunday 26th May – Atlantico Pavilion, Lisbon
On Sale Saturday 03 November, 10am