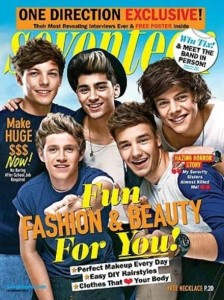 One Direction have appeared as cover of Seventeen Magazine this week and the inside  interview can be seen below:
In an interview with Seventeen Magazine, we learn a little more about Liam and Harry.
The interview took place before Liam split with Danielle Peazer. When asked how he and Danielle got together
"She's got really curly hair and beautiful eyes. I told Harry on The X Factor that I thought she was really hot, so Harry said into his mic "Liam thinks the girl with the curly hair is really hot!" She and I had no choice but to talk – and it was really awkward."
"The next day when I saw her, I held the door open for her and she said "Thank you, I really like your jacket." That night I gave her my jacket and got her BBM. And that was it."
Liam was asked why he was settling down with one woman, when there were so many celebrities and fans chasing after him. He explained:
"I think it's just her. I found the person I really like. She understands everything. She's really cool. We hang out, we watch movies, she cooks me dinner. I bring her flowers. When you find that special person who puts up with you, then you've got to stick with her."
On the other hand, Harry Styles has admitted that he can be "too flirty" at times.
"I'm maybe too flirty. But I'm an 18-year-old boy, and I like to have fun!" Styles told Seventeen magazine.
"I wouldn't say I'm girl crazy, because that makes me sound like a bit of a womaniser. That isn't really me."
He added: "I like having fun but it's nice to just wake up in your own bed isn't it? I think I've got my head screwed on.
"I'm not half as busy as I'm made out to be, that's for sure. I'm doing stuff that every other 18-year-old lad is doing but it gets written about."