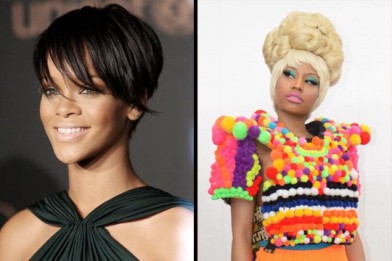 The nominations for the 40th anniversary of the American Music Awards were announced Tuesday.
Rihanna and rapper Nicki Minaj led the pack with four apiece, edging out stiff competition from pop sensations Justin Bieber and One Direction.
Rihanna, 24, was nominated in the category – artist of the year – where she will compete with Bieber, Katy Perry, pop-rockers Maroon 5 and Canadian rapper Drake.
She also won nods for female soul/R&B artist and album for "Talk That Talk," and will battle Minaj, 29, in the female pop/rock artist category.
Minaj scored two nods for her album "Pink Friday: Roman Reloaded" in both the pop/rock and rap/hip hop categories this year, as well as a nomination for favorite rap artist, alongside Drake and American newcomer Tyga.
Minaj has been making headlines after joining the "American Idol" judging panel, where she was caught feuding on camera with fellow judge Mariah Carey in early audition rounds.
"Boyfriend" singer Bieber, 18, landed three nominations this year, tying with British boy band One Direction, Maroon 5, Drake and R&B star Usher.
The full list of AMA nominations:
Artist of the Year
» Justin Bieber
» Drake
» Maroon 5
» Katy Perry
» Rihanna
New Artist of the Year
» J. Cole
» Fun.
» Gotye
» Carly Rae Jepsen
» One Direction
Favorite Male Artist: Pop/Rock
» Justin Bieber
» Flo Rida
» Pitbull
» Usher
Favorite Female Artist: Pop/Rock
» Kelly Clarkson
» Nicki Minaj
» Katy Perry
» Rihanna
Favorite Band, Duo or Group: Pop/Rock
» Fun.
» Maroon 5
» One Direction
» The Wanted
Favorite Album: Pop/Rock
» Justin Bieber, Believe
» Maroon 5, Overexposed
» Nicki Minaj, Pink Friday: Roman Reloaded
» One Direction, Up All Night
Favorite Artist: Rap/Hip-Hop
» Drake
» Nicki Minaj
» Tyga
Favorite Album: Rap/Hip-Hop
» J. Cole, Cole World: The Sideline Story
» Drake, Take Care
» Nicki Minaj, Pink Friday: Roman Reloaded
Favorite Male Artist : Soul/R&B
» Chris Brown
» Trey Songz
» Usher
Favorite Female Artist: Soul/R&B
» Beyoncé
» Mary J. Blige
» Rihanna
Favorite Album: Soul/R&B
» Chris Brown, Fortune
» Rihanna, Talk That Talk
» Usher, Looking 4 Myself
Favorite Artist: Alternative Rock
» The Black Keys
» Gotye
» Linkin Park
Favorite Artist: Adult Contemporary
» Adele
» Kelly Clarkson
» Train
Favorite Artist: Latin
» Don Omar
» Pitbull
» Shakira
Favorite Artist: Electronic Dance Music
» David Guetta
» Calvin Harris
» Skrillex
Favorite Male Artist: Country
» Jason Aldean
» Luke Bryan
» Eric Church
Favorite Female Artist: Country
» Miranda Lambert
» Taylor Swift
» Carrie Underwood
Favorite Band, Duo or Group: Country
» Zac Brown Band
» Lady Antebellum
» Rascal Flatts
Favorite Album: Country
» Luke Bryan, Tailgates & Tanlines
» Lionel Richie, Tuskegee
» Carrie Underwood, Blown Away