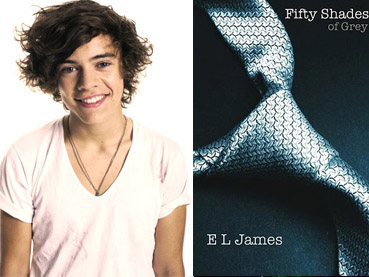 The One Direction heart-throb has revealed he has been reading hit erotic novel 'Fifty Shades of Grey'.
The 18-year-old singer tells The Sun, the best-selling novel – is 'educational' and he's found it 'helpful' and 'interesting'.
He said: "I haven't bought it, but a female friend of mine was forcing me to read it out to her the other day.
"They were like, 'Just borrow this,' and I was like, 'Hmmm'. It seems interesting. I could probably learn from it, I don't know. I feel like it's an educational and interesting read."
Harry played down his womaniser status saying: " I'm not quite as I'm made out to be. I have friends who are girls and sometimes even if I give them a lift home I'm 'dating them', or whatever. It's fine, I have a lot of fun.
"I think that's important. You don't want to look back with any regrets, but at the same time if I met someone who I got on with and I liked then who knows?
"I don't really want to say the names of people I might like — it wouldn't be right. I know a lot of people are up for sitting down and going through who they have slept with. I know sometimes it might come across in the paper that I'm a bit like that, but I'm really not."
Harry isn't too concerned about going 'off the rails', he added: "As for becoming a hellraiser? I don't like going crazy, crazy. I like having fun but it's nice to just wake up in your own bed isn't it? I can see how you get dragged into the bad stuff, but I've got good friends around me.
"I don't look at myself as the Robbie Williams of the band. I don't think that kind of comparison is on any of our minds.
"If I did go off the rails, I think that to a degree a lot of people like to protect me, so they would step in. At the same time my close friends know I'm not stupid. They know I'm not going to do stupid stuff, so they like to just help me through."