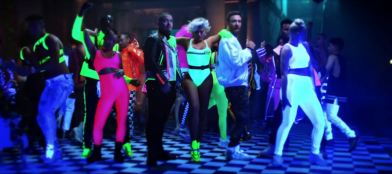 DJs From Mars release a Mega Mashup of David Guetta's most well-known tracks, taking listeners on a journey through his music.
With a career spanning over two decades, the mix features 30 of Guetta's biggest hits, including old classics and modern day releases all mixed into just 8 minutes. The video has already gained over 433K views on YouTube in just a few days.
BUY THE NEW DAVID GUETTA ALBUM NOW : https://davidguetta.lnk.to/Album7AY 🔔 Subscribe to be notified for new videos ➡️ http://bit.ly/GuettaYouTube 🔔 #DavidGuetta #DjsFromMars #mashup Mashup by Djs From Mars Video editing: Damien Saintobert (P) & (C) 2018 What A Music Ltd, Under Exclusive Licence to Parlophone/Warner Music France, a Warner Music Group Company Follow David Guetta: http://www.davidguetta.com http://facebook.com/DavidGuetta http://www.twitter.com/DavidGuetta http://www.instagram.com/davidguetta
The Mega Mashup includes some of his most popular hits such as 'Who's That Chick?' featuring Rihanna, 'I've Got A Feeling' featuringThe Black Eyed Peas and 'When Love Takes Over' featuring Kelly Rowland. It also includes some of his most recent releases from his new album 7 such as 'Say My Name' featuring Bebe Rexha and J Balvin, 'Dirty Sexy Money' featuringAfrojack, Charli XCX and French Montana and 'Flames' featuring Sia.
Italian duo Djs From Mars are known for their exceptional mashups and are one of the biggest names in the bootleg scene, with their YouTube videos reaching over 70 million views. Their tracks and remixes have been supported by some of the world's biggest DJs includingTiesto, Carl Cox, Oliver Heldens and Lost Frequencies.
Pop Scoop founder and editor. Ex showbiz/tech editor at the Cyprus Mail. Former sub-editor at Archant. Former art director Sky TV. Co-founder of Kool Magazine and freelanced for the BBC, Channel 4, Warner Bros and the Cyprus Broadcasting Corporation.

Posted Under