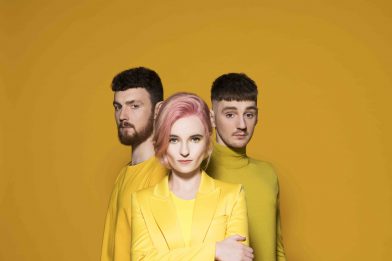 UK trio, Clean Bandit, have today landed their 4th UK No.1 single with "Solo" feat. Demi Lovato.
The track, which has exceeded 100 million streams date, marks the trio's seventh consecutive UK Top 5 single – this is more than Katy Perry, Calvin Harris + more – and their 9th UK Top 5 to date!
In the UK, Clean Bandit have – the most consecutive Top 5 records, from any artist, since Girls Aloud in 2005; the same amount of No.1's as Justin Timberlake, One Direction and Lady Gaga; and have secured more Top 5 records than Taylor Swift.
Clean Bandit's consecutive UK 'Top 5' singles are as follows, in chronological order:
"Real Love" feat. Jess Glynne (2014)
"Stronger" (2015)
"Tears" feat. Louisa Johnson (2016)
"Rockabye" feat. Anne-Marie and Sean Paul (2016)
"Symphony" feat. Zara Larsson (2017)
"I Miss You" feat. Julia Michaels (2017)
"Solo" feat. Demi Lovato (2018)
Our new single Solo feat. Demi Lovato is out now https://atlanti.cr/solo WARNING: THIS VIDEO CONTAINS FLASHING LIGHTS WHICH MAY NOT BE SUITABLE FOR PHOTOSENSITIVE EPILEPSY. Click here to subscribe: http://bit.ly/SubscribeToCleanBandit Follow us: Website: http://cleanbandit.co.uk/ Facebook: http://www.facebook.com/cleanbandit Twitter: http://www.twitter.com/cleanbandit Instagram: http://instagram.com/cleanbandit Soundcloud: http://www.soundcloud.com/cleanbandit Spotify: http://www.atlre.co.uk/CleanBanditSpotify
The official video for "Solo" has been viewed over 35 million times and accumulated over 100 million global streams. Clean Bandit are currently in the studio working on their second studio album.
Pop Scoop founder and editor. Ex showbiz/tech editor at the Cyprus Mail. Former sub-editor at Archant. Former art director Sky TV. Co-founder of Kool Magazine and freelanced for the BBC, Channel 4, Warner Bros and the Cyprus Broadcasting Corporation.

Posted Under