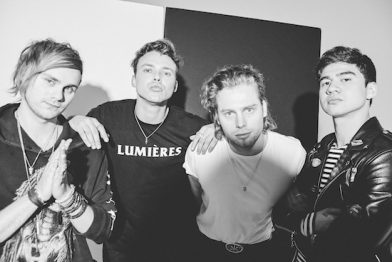 Today, 5 Seconds of Summer (5SOS), release an acoustic version of their new single 'Youngblood', the title track from the band's third studio album, out June 15th on Capitol Records and now available for pre-order. Fans who pre-order the album will instantly receive 'Youngblood' and, 'Want You Back.' See below for full album track listing.
'Youngblood' hit #1 on Spotify's Today's Top Hits and has amassed over 64 million streams – check out the 'Youngblood' live video, filmed across the band's sold out 5SOS3 Tour
Catch 5 Seconds Of Summer on Tour and purchase tickets here: https://5sosuk.lnk.to/TourID Pre-order 5SOS' new album, Youngblood now: https://5sosuk.lnk.to/YoungbloodID Remember the words you told me Love me till the day I die Surrender my everything Cos you made me believe you're mine Yeah, you used to call me baby Now
Following a sold out homecoming 5SOS3 tour in Australia, the band topped the Australian ARIA Singles Chart with 'Youngblood' – the first track by an Australian act to hit the top spot in Australia since 2016 and the second #1 for 5SOS who ruled the ARIA Singles Chart in 2014 with their debut 'She Looks So Perfect'.
Following 5SOS' five-plus years of recording and touring behind its first two albums – both of which debuted at No. 1 on the Billboard 200 – the band decamped across the hemisphere to Los Angeles to find a new set of collaborators, influences, and inspirations.
While expanding its musical parameters on 'Youngblood', 5SOS retains the hooks and trademark DNA that's always been a massive part of the band's appeal.
They wrote and recorded the bulk of the album with the Swedish producing-writing team Carl and Rami (Nicki Minaj, Madonna). Other collaborators include Andrew Watt and Ali Tamposi (Camilla Cabello), producer/instrumentalist Mike Elizondo (Dr. Dre, Eminem, Fiona Apple), producer/engineer Noah Passovoy (Maroon 5), J Kash (Maroon 5, Charlie Puth), Asia Whitacre (Hailee Steinfeld, Zedd) and Andrew Goldstein (Linkin Park, Simple Plan).
Hailed as the "biggest new rock act in the world" by Rolling Stone, 5SOS is the only band (not vocal group) in history to see its first two full-length studio albums enter the Billboard 200 at No. 1.
5SOS's self-titled debut album has sold more than three million units worldwide, and 2015's Sounds Good Feels Good charted at No. 1 in 12 countries, including the US, UK and Australia. 'She's Kinda Hot', the album's first single, topped the iTunes charts in 44 countries.
Youngblood Track Listing:
1 Youngblood
2 Want You Back
3 Lie To Me
4 Valentine
5 Talk Fast
6 Moving Along
7 Walls Could Talk
8 Better Man
9 More Spike
10 Why Won't You Love Me
11 Woke Up In Japan
12 Empty Wallets
13 Ghost Of You
14 Monster Among Men
15 Meet You There
16 Babylon
Pop Scoop founder and editor. Ex showbiz/tech editor at the Cyprus Mail. Former sub-editor at Archant. Former art director Sky TV. Co-founder of Kool Magazine and freelanced for the BBC, Channel 4, Warner Bros and the Cyprus Broadcasting Corporation.

Posted Under