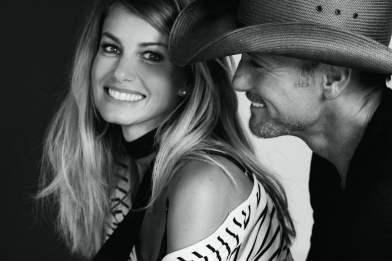 Faith Hill & Tim McGraw, Grammy-winning superstars, will release their first album together The Rest of Our Life on 17th November 2017.  The 11-song collection will be released by Sony Music Entertainment, including the CMA Award-nominated first single, "Speak To A Girl" and the title track, penned by Ed Sheeran, Amy Wadge, Johnny McDaid, and Steve Mac. Watch the stunning new video for "The Rest Of Our Life", directed by Grant Singer here.
The album is available for pre-order on Amazon and iTunes, with both tracks available instantly today with digital pre-orders and to listen on all streaming services. Fans can also check out exclusive presale packages created by Faith and Tim in collaboration with Lucky Brand at www.timandfaith.com.
As previously announced, Hill and McGraw will bring their Soul2Soul World Tour to C2C:  Country to Country Festival in London, Glasgow and Dublin in March 2018.  For complete information and tickets, visit c2c-countrytocountry.com .
Teaming with two of Nashville's most accomplished producers, Hill and McGraw produced nine of the new album's 11 songs with Byron Gallimore, and two tracks with Dann Huff.  The track listing and writer credits for The Rest of Our Life are as follows:
1. The Rest of Our Life (Ed Sheeran/Amy Wadge/Johnny McDaid/Steve Mac)
2. Telluride (Jon Randall/Jessi Alexander)
3. The Bed We Made (Lori McKenna/Liz Rose/Hillary Lindsey)
4. Cowboy Lullaby (Brett James/Brett Beavers)
5. Break First (Emily Weisband/Ashley Gorley/Jerry Flowers)
6. Love Me to Lie (Hayley Warner/Maureen McDonald/Nathan Chapman)
7. Sleeping in the Stars (Jaida Dreyer/Mark Irwin/Gareth Dunlop)
8. Damn Good at Holding On (Lori McKenna/Barry Dean)
9. Devil Callin' Me Back (Jesse Frasure/Ben Caver/Nolan Sipe)
10. Speak to a Girl (Shy Carter/Dave Gibson/Joe Spargur)
11. Roll the Dice (Shy Carter/Bobby Hammrick/James LeBlanc/Meghan Trainor)
The following two tabs change content below.
We're always on the lookout for writers/presenters/videographers and photographers. If you think you have what it takes to join the writing team. Get in touch! http://www.popscoop.org/joinus/
Latest posts by Staff Writer (see all)

Posted Under